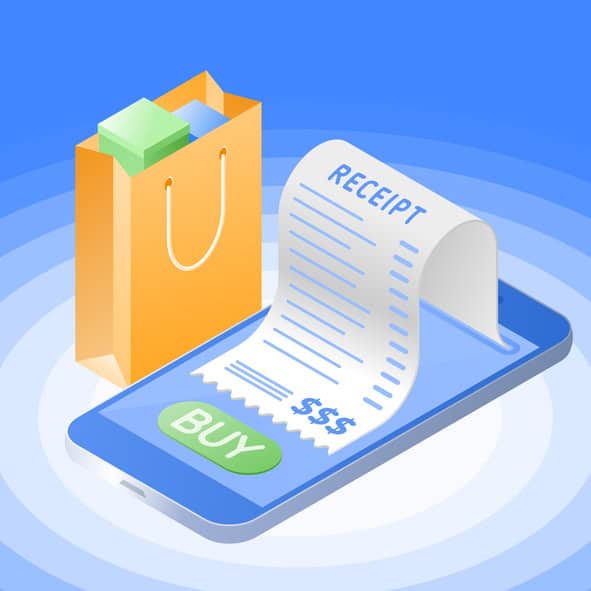 Have you been doing a lot of holiday shopping? The news reports indicate that online holiday shopping is waaay up from last year. Of course, it is! We have all been told to stay home. The CDC advises us to stay away from the shops and to avoid other people so of course we are doing more shopping from the comfort of our computers.  There are some gifts though, you may want to go and pick up from your local stores. So, holiday shopping receipts will come to you in two different ways; through your email and when you purchase your gifts in person.
What do you do with all these holiday shopping receipts?
Do not toss them right away.
Keep Your Receipts
The first great reason to keep your holiday shopping receipts is so you know how much you have spent. Do you budget a certain amount of money to spend on holiday gifts? That amount is easier to track when you keep your receipts.
Paper Receipts
If you are standing at the register, take a minute or two to verify that the receipt shows the total is the amount you expect to see there. Sometimes mistakes are made at checkout. Make sure that you have only been charged for the items purchased by double-checking your receipt.
Email Receipts
Do the same thing even if you are shopping online. A couple of weeks ago I almost accidentally purchased 2 gift certificates for my daughter-in-law. By mistake, I must have clicked the up arrow. I didn't notice this until I was ready to checkout and I saw the total amount was much more than I expected.
Once you select the item you want to purchase and have it in your cart double-check to make sure the amount is correct. As you know, there are usually additional taxes, shipping and handling fees that come next.
Also make sure that everything you think you are buying is in your shopping cart. I thought I bought a new dog leash for Miles along with a new collar and a collar for Josie. When the email invoice came to my inbox, I realized I forgot to add the leash to my cart. Miles doesn't really need a new leash, so I didn't go back and order it. It pays to double-check your orders before you place them.
Email Folder
Next create a holiday shopping receipt folder in your email. Put your email receipts in that folder. As the packages arrive at your door, delete those receipts from your email folder.
Having all the holiday shopping receipts in this folder makes it easy to remind yourself when you ordered the gift, how much you spent, and to verify when the gift is expected to be delivered to you or someone else. This is the second great reason to organize your receipts.
Holiday Gift Receipt Envelope
If you are shopping in person, take the paper receipts out of your bag when you get home. Label each receipt with the name of the person receiving the gift. If you bought multiples of a certain item put each person's name on the receipt.
Put the receipts in an envelope labeled Holiday Gift Receipts. This will make life easy for you if someone wants to exchange the gift for something else. You will know exactly where to find the receipt for them.
It also helps to keep your bag clutter free – an added bonus!
It's hard to know when to keep receipts, for how long and where to keep them. You don't always need to hang onto receipts. Some you can delete or toss without a second thought. These receipts, though, fall into a separate category. They are holiday gift receipts. Since you've gone to the trouble to buy someone a gift, you want to be able to verify when you purchased the gift, when it was shipped to you or the recipient, and that it arrived. Or the recipient may want to exchange your gift and need a copy of the receipt. Keeping your holiday gift receipts organized allows you to easily do these things.
Follow Diane on Facebook to get your questions about keeping holiday gift receipts or receipts in general answered.