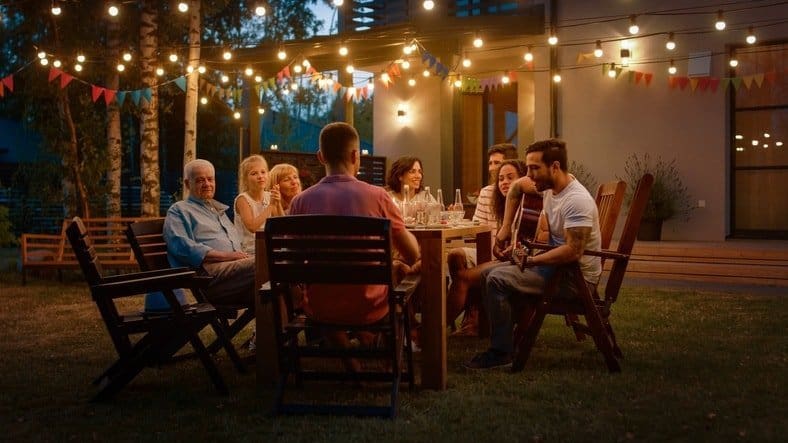 No matter what you're celebrating: Thanksgiving, Chanukah, Christmas or a family celebratory dinner if you're gathering lots of people with multiple generations it can be stressful.
Not just in the preparing – there's lots of advice to help you get organize with the preparations – but also in the event itself.
If your family is anything like mine there are lots of personalities – from the happy go lucky all the way to the downright argumentative.
Tip #1 Where to sit
If you're hosting a seated dinner plan the seating at the table (or tables) in such a way as to spread the argumentative personalities away from one another. Put the easy-going family members between them.
If you're hosting and the dinner is not seated, casually suggest to the easy-going members of your family that they try to sit somewhere near the argumentative members.
Tip #2 Games
One of my brothers loved to create chaos. He would sometimes say something he knew was controversial because he loved to see everyone's reactions.
Do you have someone like that in your family?
Since we all knew my brother wanted nothing more than to cause a scene, we (my other siblings and I) did our best not to rise to the bait.
If you notice that trouble is brewing change the focus and bring out a game or two.
There are some great word games available on Amazon.
Wordsmithery
Never Have I Ever (family edition)
Bananagrams
And then there is Jenga. You can get at least three or more people involved in each of these games.
If you want the whole group to play why not try a round or two of Bingo or a trivia game?
Have a couple of small prizes on hand for the winners.
Tip #3 Talking Points
If you and your family are attending a large family gathering give the members of your immediate family some ideas of great things to talk about. Topics that are less likely to cause an argument.
Children can talk about school. Focus on the positive elements like their favorite subject or teacher. Were they in a play or a recital? Do they play sports or an instrument?
One of my children did not like to be the center of attention. He very much preferred to listen and let the others do the talking. That's fine, too. If you have a child like that honor their desire to be quiet.
I learned over the years that when my child had something to say, he would speak up. If pressured to answer, he would become even more withdrawn.
If you are going solo to one of these family gatherings organize your thoughts in advance. Prepare with a couple of talking points so that you have things to share with your extended family. If someone brings up something you don't feel like talking about you always have the option to say something like 'excuse me, I think I'm needed in the kitchen'. In other words, don't engage. Find a way to leave the conversation gracefully.
When you have a large, extended family gathering make the most of your time with those you see less often. Try to overlook small slights, stick to non-controversial topics, and remember why you are there. It's a celebration!
Diane N. Quintana is a Certified Professional Organizer®, Certified Professional Organizer in Chronic Disorganization®, Master Trainer and owner of DNQ Solutions, LLC based in Atlanta, Georgia. Diane teaches busy people how to become organized and provides them with strategies and solutions for maintaining order in their lives. She specializes in residential and home-office organizing and in working with people affected by ADD, Hoarding, and chronic disorganization.