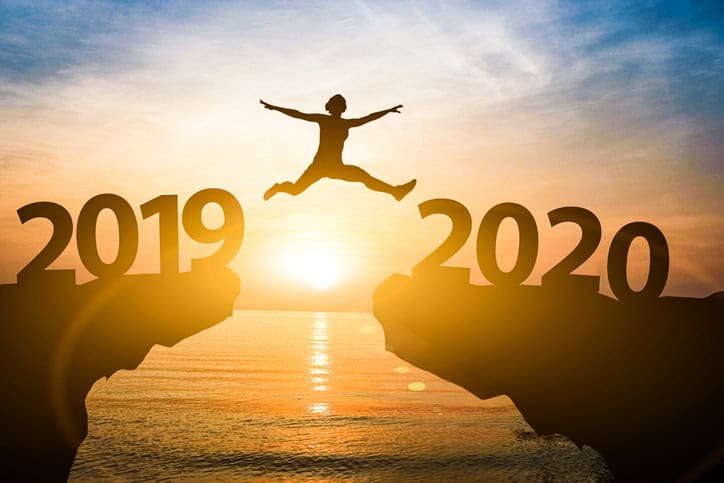 Take some time to think about the goals you set for the year that just ended. Did you accomplish your goals? 
Identify your accomplishments.
Look back through the months, one at a time. Identify your accomplishments. Take a few minutes and write them down. Be sure to recognize and acknowledge the things that you've done – good and maybe not so good.
Pat yourself on the back for the things that happened that were wonderful. Think about those things and ask yourself if you want to add to them. Is there a way to extend that accomplishment? Can you take it a step further? Do you want to push yourself? If you don't, why not?
Answering these questions will help to establish your goals for the new year and this new decade.
Identify your mistakes
Look at the things that happened that were not so great. Were there lessons learned from the mistakes? Did you take what you learned and apply it to other situations? If so, then you are better off for having made those mistakes. If you didn't learn from the mistakes you will probably make similar mistakes again.
New Year's Resolution
Did you make a New Year's Resolution last year? Were you able to keep that resolution?
The older I get, the faster the year flies by for me. I have learned that making a New Year's Resolution is a pointless activity for me. In the years that I did make a New Year's Resolution, I avoided working on it because I knew I had a full 12 months in order to accomplish that goal. So, I kept putting off beginning until it was too late to start. Then I realized I didn't have enough time to accomplish the New Year's Resolution.  
Monthly Goals
It's easier for me to accomplish my goals when I set shorter time limits. Last year, I set a goal for each month, one month at a time. As one month ended, I set my goal for the next month. That really worked for me.
I thought about what worked and what would be my next achievable step. I wanted to stretch myself, but I didn't want to make something so difficult and time consuming that I wouldn't even feel like attempting the task.
Quarterly Goals
This year, I am going to set slightly bigger goals. I am thinking about a goal for each quarter of the year. My plan is to break those goals down into smaller, achievable monthly goals. Then I will still be working on a goal each month, but those accomplished goals will add up to a bigger quarterly goal. I will let you know how it works for me.
Create Your Goals
How do you go about setting goals? What questions do you ask yourself?
As you take time to think about the many things you accomplished in 2019 think about what you want to accomplish in 2020.
Will you set a monthly goal for yourself?
Will you make a New Year's Resolution and then break it down into small, achievable steps?
Please reach out to me if you'd like to have a conversation about how to go about setting goals.
Diane N. Quintana is a Certified Professional Organizer®, Certified Professional Organizer in Chronic Disorganization®, Master Trainer and owner of DNQ Solutions, LLC based in Atlanta, Georgia. Diane teaches busy people how to become organized and provides them with strategies and solutions for maintaining order in their lives. She specializes in residential and home-office organizing and in working with people affected by ADD, Hoarding, and chronic disorganization.