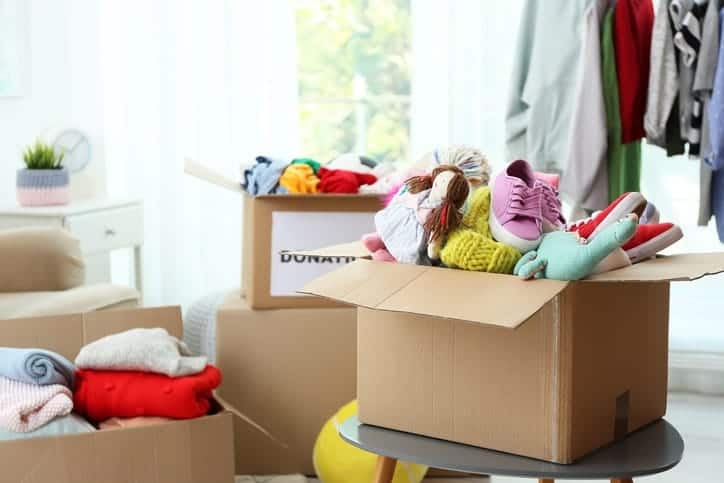 Let's talk about donations. This is a great time of year to go through closets and drawers looking for clothes, toys, and books in good condition to donate. And, if they are not in good condition to recycle or toss!
When my children were much younger, I would ask them to please try on their winter clothes in late August early September. We lived in Connecticut and some of the Fall days can surprise you by being chilly. So, I wanted to know what clothes fit and which of the clothes that didn't fit could be passed on from one son to the other.
Pass down, donate or toss?
As we three went through this process some clothes were set aside to be used as rags because they were too tattered to pass on. The younger of my two boys sometimes didn't like the looks of a shirt or sweater and would say that 'no way' would he wear that item of clothing. Those clothes were put in a donation pile.
Of course, we also went through the hats, gloves, scarves, sneakers, boots and ice skates. Anything that was too small and in good enough condition went into a donation pile. Those which could not be used any more were tossed.
What about your clothes?
Are you going through children's clothes this fall?
Take the time to also go through your own closet and drawers.
Multiple Sizes?
Do you keep clothes in multiple sizes? I am very fortunate as I have been the size I am for years. If you fluctuate sizes, consider how likely it is that you will either be the largest or smallest size that you are keeping. Ask yourself how long it has been since you wore that size and if you think you will (honestly) ever be that size again. It may be time to make more space in your closet and remove the sizes that you don't think will ever be your size again. Let someone else enjoy these clothes.
Don't feel right?
Then there are the clothes that you put on and take off right away because they don't feel right. Chances are if they don't feel right now, they are never going to feel right to you. Just go ahead and donate them.
Tags?
How about the one or two things in your closet that still have the tags on them? You brought them home to try on and the occasion to wear them just hasn't yet presented itself. If these clothes have been lurking in your closet for a year or more, it's time to say good-bye to them!
Toys, games and books
This is a great time to go through the toy cupboard. I recommend doing this with your children. The holidays will be here before we know it. Take this time to go through the toys and games so that there will be room for the new things that arrive with the holidays.
Ask your children if they still play with these games. If they do not, and if the games have all their pieces, donate them. If the games are missing more than a few pieces toss them.
Suggest that your children donate out toys and books they used to really like but may be too old for now and no longer play with or read. It's sometimes helpful to give your children a few choices of places to donate the toys and books and maybe even have them go with you to make the donation. Your church or place of worship may have a place it supports with donations for families.
Choices
It's important that children learn how to make choices with their belongings. What they need to keep and what they can let go. When they see their parents participating in this ritual of removing clothes and other belongings they no longer use it makes it easier for them to follow the example.