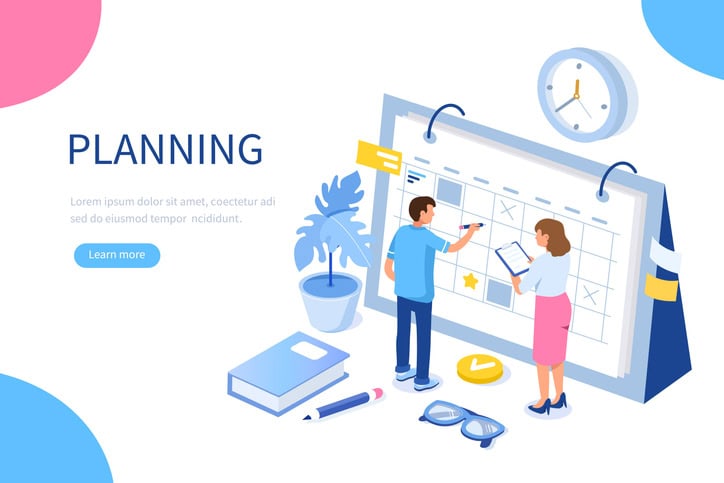 Benjamin Franklin is credited with coming up with a lengthier version of this saying. Sir Winston Churchill created his own version.
Both these wise leaders are letting us know that if you don't have a plan you will most likely fail at whatever it is you are attempting.
Why Plan?
The best reason to plan is to succeed.
When you have a plan, you don't float through the day letting whatever happens to happen. You get things done. Your appointments and job are scheduled. You can fit other tasks like errands, chores, and self-care around the scheduled events. If you don't schedule these other tasks, they won't get done.
Don't get me wrong. There's a time for floating through the day. I love to do that when I'm on vacation. Generally, though, it's best to have a plan.
How to Plan
Some people, I am one, use pen and paper to create their plan. Others use their electronic devices. One of the biggest reasons I like using a paper list is that I like the physical action of crossing a completed task off my list.
Another reason I like paper is because the plan seems more real to me when I can write it out. It helps me to organize my thoughts when I put them on paper. I see right away if a step is not in the correct order which allows me to rework my plan.
Sometimes, I think I have things in a logical order but after I write down my thoughts, it's immediately apparent that I need to make some adjustments.
What to Include in the Plan?
I know I've said this before, but it bears repeating. I make my list of things to do the night before. I reread my list of the day and note anything I haven't done that I want to accomplish the next day.
I quite often have several lists going at once. One list has long-term projects. The other is a daily list. I look over the project list to see if there is room in my day to include a step or two from my project list in my daily list. If there is, I schedule time to do it.
Easy Reference
Once I have my list it's easy to reference. I don't worry about my next steps, I have them in black and white.
Also, if I want to do one step or one task and then take a break I can without taxing my brain with remembering either where I was in a project or what else I wanted to do today.
Be Flexible
My plan also lets me be flexible. I bet that surprises you. Some people are under the impression that when you have a list, a plan and a schedule you have to stick to it like glue.
This is not the case.
Arguably, some things like an appointment with someone else or your work hours cannot always be rescheduled. However, other things like going to an exercise class or completing a step in a project can easily be rescheduled. It's much easier to move things around when you have a good understanding of what it is you want to accomplish – when you have a plan.
Work Your Plan
As the day goes on, I sometimes find that I have over-planned. I didn't have as much time as I wanted. I'm sure you get interrupted when you're working just as I do.
When you have a plan, you can check in with yourself to see what is being accomplished and what is not. Being flexible is important as is getting the time sensitive and important things done each day.
Read this for more information on planning your day.
When you have a plan to work you can plan to succeed in whatever it is you're doing.
Diane N. Quintana is a Certified Professional Organizer®, Certified Professional Organizer in Chronic Disorganization®, Master Trainer and owner of DNQ Solutions, LLC based in Atlanta, Georgia. Diane teaches busy people how to become organized and provides them with strategies and solutions for maintaining order in their lives. She specializes in residential and home-office organizing and in working with people affected by ADD, Hoarding, and chronic disorganization.