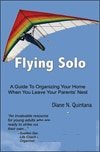 Are you about to move into your first home away from your parents'? Are you a parent concerned about your child successfully living on his own?
At this time of year many young adults are moving into new situations. They could be moving into a dorm for the first time, moving into a house with friends and starting college or a new job, or perhaps they are newly married and setting up a first home. Whatever the situation there is so much to keep in mind.
Jonda Beattie and I are presenting a workshop in July in Metro-Atlanta which will cover topics like: setting up a budget, keeping up wiith paperwork, stocking a kitchen, and managing time. If you live in the Metro-Atlanta area come to the workshop – Flying Solo, July 20 from 10:00 – 11:00. The workshop will be at Spacemakers of America (11415 Old Roswell Road, Ste. 300, Alpharetta, GA) The $25 investment will allow you and a parent to attend.
If you are not able to come to the workshop but would like information on these topics, purchase my book, Flying Solo: A GUide to Organizing Your Home When You Leave Your Parents' Nest. My book can be purchased through my website www.dnqsolutions.com or through Amazon.
I hope to see many of you at our workshop!