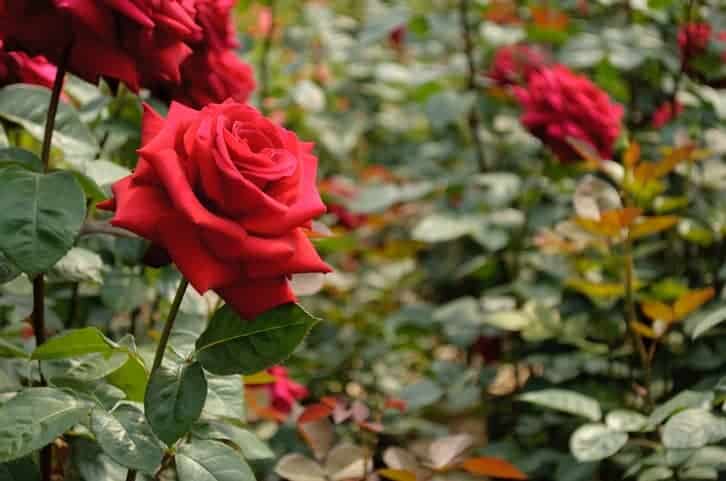 I am an avid gardener. I'm in my garden every day. Naturally, I spend more time out there when the weather is nice and less when the weather is nasty. But there is something to see and something to do all the time. I am also a Certified Professional Organizer. I organize something every day either in my own home or while working with a client.
Recently, I took a free class at a local garden nursery on caring for roses. I have always thought that gardening and organizing have lots in common, but I had one of those 'Ah ha' moments when the master gardener was talking to us about pruning the roses.
Mickey told us that now is the time to prune our roses. I have lots of roses and have never known how to prune them properly. I have always let my roses do their own thing. I was very interested to learn how to go about this pruning.
Mickey told us there are three basic steps to take when pruning the roses.
Step One: Cut out the dead wood.
She said any dead parts of the rose must be cut off to allow new growth.
When Mickey said that I thought that cutting off the dead wood is much like removing anything that is broken from your home or anything you haven't used or worn in a while. Instead of letting it sit there and take up valuable real estate in your home.
Step Two: Cut away any branches that are crossing.
Mickey said this opens the center of the rose bush which allows more air flow around the base of the rose.
I'm addicted to watching HGTV. I usually have one of the home improvement shows playing in the background. I love looking at the before and after segments. When the Property Brothers or Chip and Joanna Gaines begin one of these projects, they are quite often talking about opening the home. They indicate which walls will be removed and how that will create more space which will allow for better traffic flow in the home and better sight lines.
It's interesting to note that one of the things I look at in my clients' homes is the flow in the rooms. Some questions I ask myself and my clients are:Is there too much furniture in the room? Does the furniture support the intended use of the room?
Step Three: Reduce the length of the branches.
Mickey told us to cut the rose branches back to between 12 to 18 inches above the ground. She told us what to look for on the branches so that we would know where to make the cut. Mickey advocated cutting thoughtfully.
This philosophy is like removing belongings from our homes that we no longer use or that we no longer love.
For example:
Clothes that are too big, too small, out of fashion, or that you simply don't like any more. Give them away, someone else would love to have them
Toys your children no longer play with. Maybe they are too old for them. As long as the toys are in good shape, donate them out. If they are broken, throw them out.
Furniture that no longer works with the way you use the rooms. Maybe you now use the guest room as an office and do not need a bed in that room any more.
Kitchen implements that you don't use
Gifts you don't like – as long as the person was thanked you are free to do as you wish with the gift.
When we remove these things from our homes, we open space for the things we want to have around us.
I said at the beginning that gardening and organizing have things in common. I was not expecting to find my lesson on pruning roses so easy to relate to organizing. As I sat there listening to the lecture and watching the demonstration, I couldn't help but think about the analogies which I just shared with you.
Diane N. Quintana, CPO, CPO-CD, is the owner of DNQ Solutions – a professional organizing company in Atlanta, Georgia. Diane specializes in residential and home-office organizing and in working with people challenged by ADHD, Hoarding, and Chronic Disorganization.