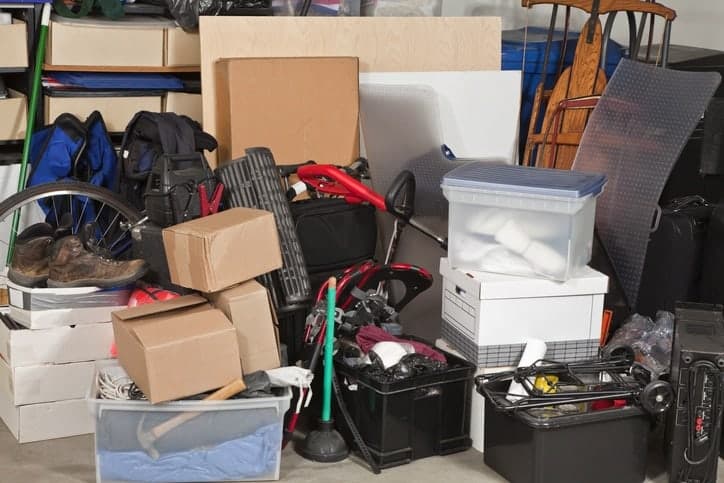 Do you have piles of clutter in your home? These piles may not be in your way – really. And, you may have become so used to seeing them that you are blind to them. They are there, you see them, but you don't do anything about them.
What's the hold up? Are you procrastinating?
Everyone procrastinates from time to time. I bet you can think of many ways in which you procrastinate – even if it is just a little bit. I used to procrastinate when I was unsure of the best way to proceed. I've learned to be satisfied with the best way for now. Understanding that a new and better way may present itself. If it does, I can change my strategy or stick with what has been working.
Clutter Build Up
When you procrastinate putting things away the clutter multiplies. It's a fact. I've seen this happen over and over in client's homes. First there is one pile. Then because you don't want to pile too much in one place another pile is started. Before you know it, there are multiple piles around the house containing a variety of items. It can be overwhelming and stressful to see piles of stuff.
What is a person to do? You can procrastinate and avoid making decisions about these piles or you can create a system for tackling them.
It's a good idea to take the blinders off, really look at what is in your home and find a way to declutter – a little bit at a time.
Identify Where Things Belong
It sounds trite but when your belongings have dedicated homes it's relatively easy to put them away.
The first step is to figure out where you want to put your belongings.
Papers belong in an office area – whatever space you use to keep your papers, pay your bills, and store vital documents.
Clothes are usually kept together in a closet, a chest of drawers, or on a hanging rack.
Kitchen things and food belong in or near the kitchen.
Sort Through the Piles
Figure out what is in the piles, one pile at a time. Resist the urge to take the things to different rooms until the whole pile is sorted. Then you can deliver the things to their homes.
If the pile is large, set a timer for 15 minutes. See how much you can sort through in that amount of time. When the timer goes off, you are done. Even if the pile is still there. Deliver the items you have sorted to their homes. This way you avoid overwhelm and you are making progress.
If you find things that are missing pieces, need repair, or that you don't want any more you can make decisions to:
Look for the missing pieces – if you can't find them within a certain amount of time then discard the item.
If it needs repair either schedule a time to get it fixed or give it to someone who wants is – understanding it needs repair.
Give anything you don't want anymore away. It's taking up valuable real estate in your home, creating clutter.
Pretend You Work in a Restaurant
Waiters and waitresses never have empty hands. They are either bringing something to a table or taking something away.
If you see something out of place, take it to where it belongs as you are passing through the room.
This saves you time and ends up saving you money because you will not have lost something in a pile.
Putting things away as you go also eliminates the piles of clutter around the house.
If you find there is no space in the designated home for the item, then it is time to reduce the number of possessions in that area. However, this is another topic for another time.
If you don't have time to put things away, why not plan a time once or twice a week to take a hard look around and put away anything that is out of place. Scheduling a regular time, making it part of your routine will help you avoid the procrastination trap and will help you keep the clutter to a minimum.
Diane N. Quintana is a Certified Professional Organizer, Certified Professional Organizer in Chronic Disorganization, Master Trainer and owner of DNQ Solutions, LLC, based in Atlanta, Georgia. Diane teaches professionals and working parents how to become organized and provides them with strategies and solutions for maintaining order in their busy lives. She specializes in residential and home-office organizing in metropolitan Atlanta.