Last week I wrote about a workshop I attended at the Institute for Challenging Disorganization's annual conference in September. The workshop was presented by Ayla Lewis from the Positivity Institute. To review she taught us that happiness is not a constant emotion. Happiness can be a fleeting experience and we should savor those moments of happiness when they occur.
What makes you happy?
There are many things that make me happy. Going for a nice walk with my dogs and perhaps a friend makes me happy. There are a couple of great places near my house where I take my dogs. One is along a river and another is in a nature preserve. I try and walk them in one of these places at least 4 times a week.
Gardening is another thing that makes me happy. I love to see plants that I've planted come up in the spring and bloom! I'm in the process of creating a new garden. You see, I moved in August. The new homeowners of my former home inherited a beautiful garden with lots of perennial plants, shrubs that bloom at different times of the year.
There is no garden at my new house. Perhaps I should say there is no garden yet! When I moved in the entire backyard was over grown. There was ivy everywhere – growing along the ground and up into the very tall mature trees. There were some shrubs planted along the fence. The shrubs hadn't been clipped in quite some time nor had any fallen leaves been cleared. It was a very sad looking space. I was happy that the entire yard was fenced in and thought that it will (maybe a few years down the road) be a lovely place for me and my dogs to enjoy. I saw potential and a HUGE gardening challenge.
The first step was to make it safe for my dogs. The ivy had to go as you never know what may be hiding in the ivy in Georgia – think snakes… not my favorite creature.
I delegated cleaning up the ivy to some part time helpers. It took them several weekends but they managed to clear all the ivy growing along the ground and up into the shrubs. They clipped the ivy growing on the trees. I guess eventually I'll be able to pull it down. Once the ivy and leaves were removed I discovered some nice stone paths weaving through the backyard. What a great surprise!
These paths helped to define where the different garden areas will go. 
A few weeks ago I placed my planters and a couple of lounge chairs imagining that there will be pretty shrubs and lots of flowering plants eventually for those of us sitting outside to admire. Last week I planted pansies, snapdragons, chrysanthemums, and cyclamen in those pots.
Watching this backyard come to life little bit by little bit brings me lots of happiness. I don't have time to work in the garden everyday so when I do have some time to dedicate to it I'm as happy as can I can be.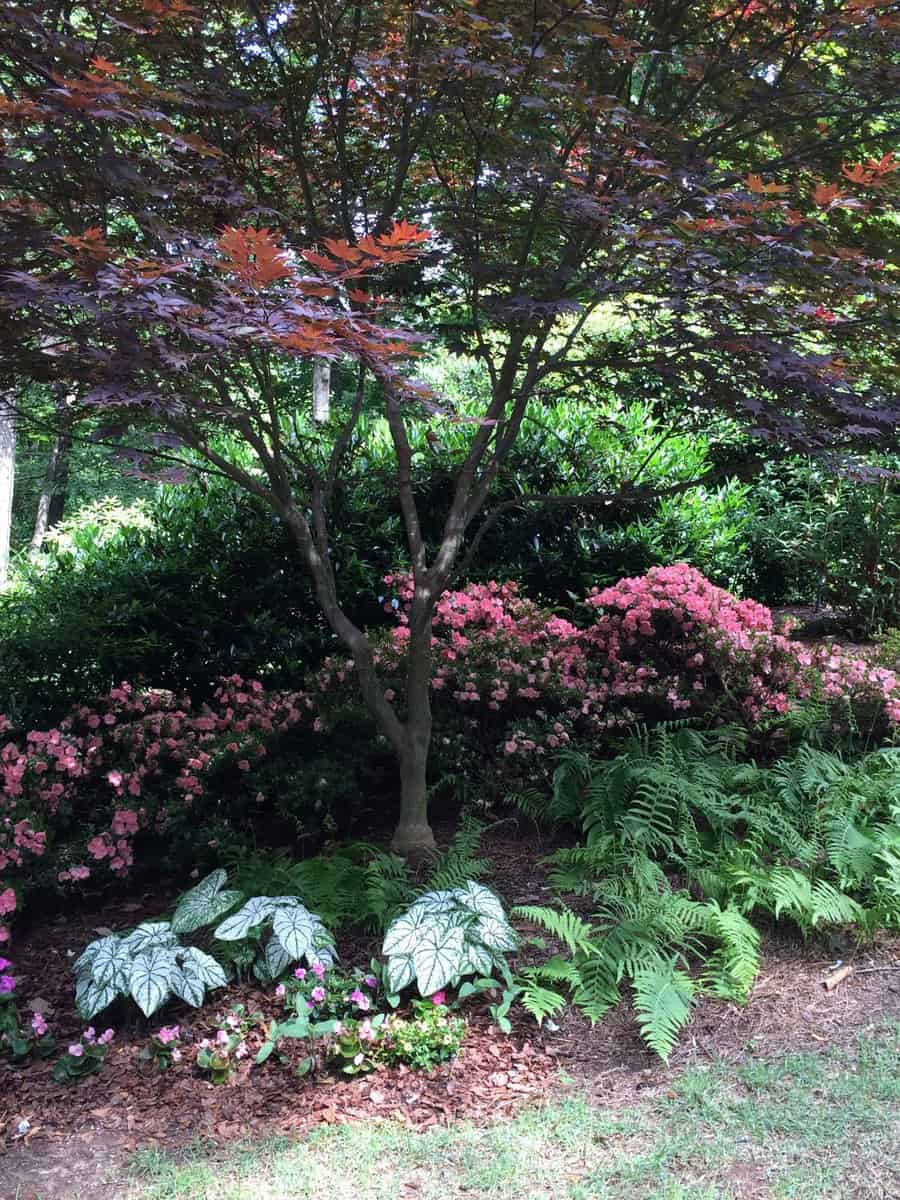 Do you have something in your life that you're working on that makes you happy? I hope so. It's a wonderful feeling to spend time on something that fills you with happiness.