I'm so happy that Spring is here. I think it's my favorite season followed closely by summer. I love watching the plants as they start this new season. The trees begin to have this haze around them, letting you know that something (leaves, flowers) is waking up inside their branches.
On my morning walks, I'm noticing all the small new things. Grass is greener, tiny leaves are starting to appear on the bushes and azaleas are painting the landscapes with the beautiful pink, white, and rose colored blossoms. I even saw a baby fox the other morning!
You may have read in one of my blogs from 2016 that I moved in August. Well, I left behind a gorgeous garden. I hope the new family is enjoying all the fabulous plants that are probably starting to emerge about now.
My current house had very little in the backyard in the way of plants. There were so many very large trees crowding out the foundation shrubs that had been planted.  And there was ivy everywhere. I do mean everywhere.
Little by little I have been working to transform this yard into a beautiful garden.  I had some trees removed. (Only the ones that were a danger to my house or that were diseased) This let light in. Some of those foundation shrubs are going to bloom! This is very exciting!!
I also hired a company to fix and enlarge the patio.
The last step was to plant. This happened last week. I love that there are beautiful plants where there was just dirt during most the fall and the winter. I chose plants with different colored foliage which keep their leaves are year: some are light greens, some have a tinge of red on their leaves, some have green and white striped leaves. This provides a wide variety. Most of these plants have blooms but at different times of the year: some are spring bloomers, some are fall bloomers, and some are winter bloomers. This gives me something to look forward to year-round in the garden.
Yesterday, I sat outside in a lounge chair and just enjoyed the view. My dogs were happy laying on the patio in the sun and I was thrilled with my new backyard. I know I'll be adding some more plants here and there. I'm already thinking about where to add hybrid tea roses! I  just love to dig in the dirt. I also know I'll be pruning and weeding. Gardens need lots of maintenance and care. But, since I love gardening it will be an easy task for me to schedule the maintenance.
This was a huge project. If I could have snapped my fingers and magically made all the changes overnight I would have. This required planning, breaking the project down into several distinct parts, and scheduling. It also required patience.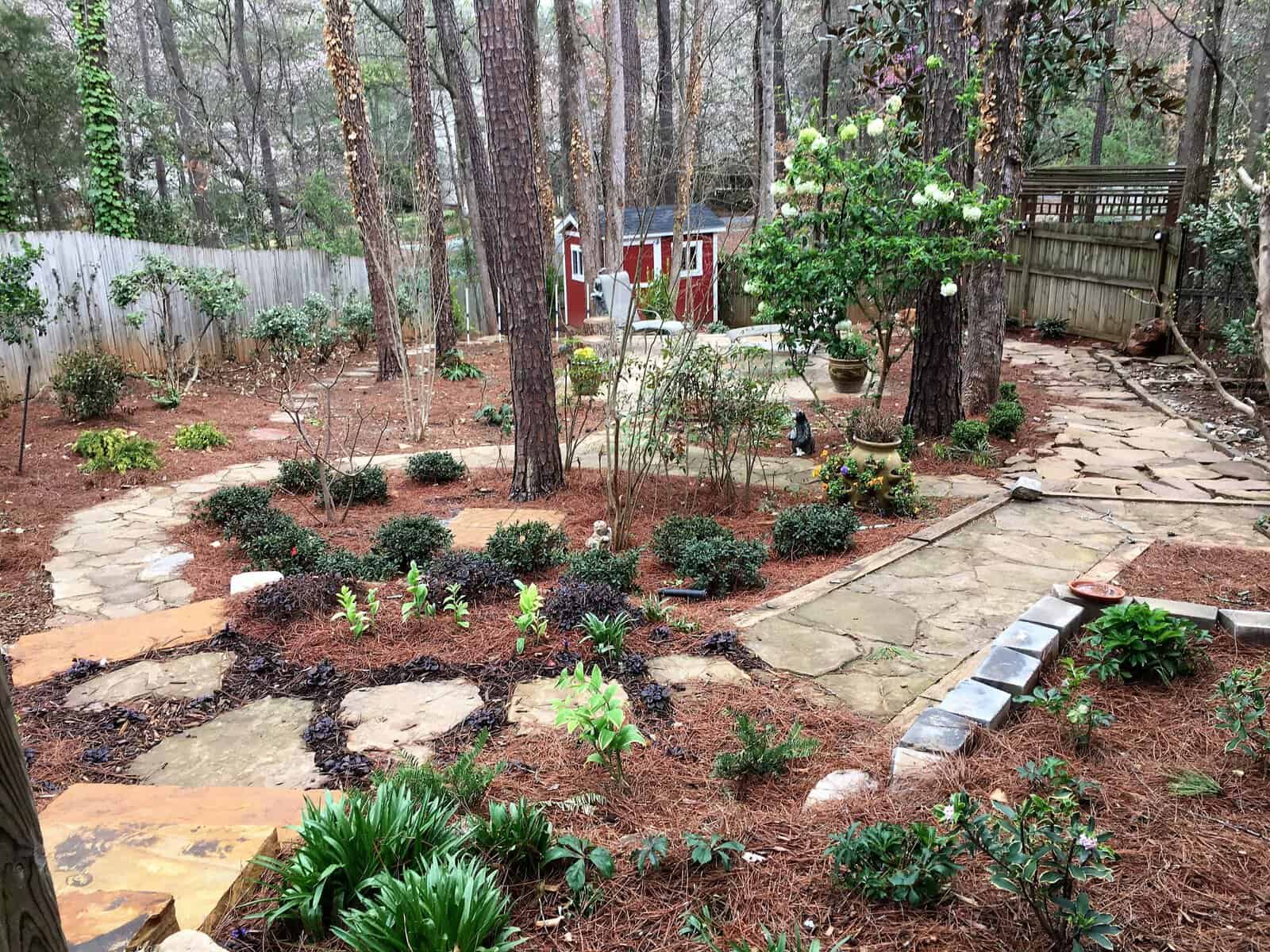 Are you working on a HUGE project? Does it have you operating in overwhelm? Talk to me about it. I'd love to help you break it down into manageable parts.