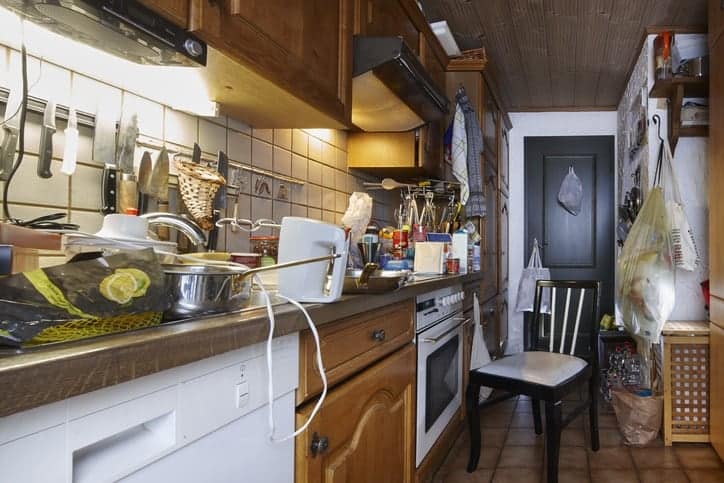 You must be careful when offering to help a friend de-clutter. It's a lovely gesture. The important thing is to let your friend know that you simply want to help, you're not there to criticize or lecture.
Here are some tips to follow so that you keep this treasured friendship!
Remain Non-Judgmental
Serious de-cluttering is hard work! Ask your friend where they would like to start. Do your best not to say something like 'let's start here because this is a real mess'. You want to follow their lead.
Always Ask Permission
Even when you can see that something is broken beyond repair, ask if they want to throw it away. Assume nothing.
Ask permission to open drawers, look inside closets, and move piles of things.
These things belong to your friend. If you happen to move, toss, or recycle something without their knowledge and permission a measure of trust may be lost.
Think Before You Speak
This is a good thing to remember no matter what the occasion. When you are helping someone with a clutter problem you want to think before you ask leading questions. Try not to say: Why on earth do you have this? Or Why have you kept this for so long?
Have a Poker Face
Our faces can often let people know what we're thinking without saying a word! Don't let your facial expressions tell your friend that you think this is horrible, smelly, or scary to touch.
Offer Concrete Suggestions
Start by suggesting you work to group like things together. This way you and your friend will know how many of xxx there are. Ask your friend to set some limits as to how many of whatever to keep. Make a list so that it's clear to everyone involved. This also helps when thinking about making donations. If you are keeping 3 of something and you have 7 then 4 of something are available to donate. Have your friend decide which ones to keep and which ones to donate. This holds true for clothes, pantry items, dishes – pretty much everything.
Work for Short Time Periods
Making tough decisions is hard work. Suggest that you and your friend set aside 30 minutes a day to work on de-cluttering. You can build up to longer time periods but start with a short amount of time. You and your friend will be surprised by how much can get done in 30 minutes. Decide where you are de-cluttering. Have your supplies ready. You need a container (can be a bag or a box) for donations, a trash bag, and a container in which to put things that are being kept but not in that place. Set the timer. Stop working when the timer goes off. It's important not to get overwhelmed by the task and by the number of decisions. Your friend will not want to continue working if it is exhausting.
Be Supportive
It is a huge decision to allow someone to come in and help. Quite often people will refuse help because they are embarrassed by the way their home looks. They want the piles of clutter to go away and don't know where to begin. Support your friend in this mission by thanking them for letting you help. Be enthusiastic, a cheerleader, for everything that gets done.
Be Understanding
Acknowledge that this is a difficult process. Let your friend know that Rome wasn't conquered in a day. Their home didn't get cluttered up in one day. Short de-cluttering sessions, each one building on the next one, will result in a tidy home.
Offer to Remove Donations
There is sometimes a temptation to go back through the donations and keep the items. Offer to go with your friend to the charity of their choice. This way the donated items leave the house and your friend can see that they were very thankfully received.
De-cluttering is hard work. It involves making decisions about everything. Does the belonging stay? If yes, where does it go? If no, does it get donated or tossed? These conversations can put a strain on the best of friendships. After a while, you may decide your friendship is more important than the de-cluttering work. Your friend might have better success working with an impartial professional organizer. Your friend is welcome to give me a call or check out the NAPO directory (The National Association of Productivity and Organizing Professionals) Or the ICD Directory (The Institute for Challenging Disorganization) to find a professional organizer nearby.
Diane N. Quintana is a Certified Professional Organizer, Certified Professional Organizer in Chronic Disorganization, Master Trainer and owner of DNQ Solutions, LLC, based in Atlanta, Georgia. An accomplished speaker and author of four books she teaches professionals and working parents how to become organized and provides them with strategies and solutions for maintaining order in their busy lives. She specializes in residential and home-office organizing in metropolitan Atlanta and in working with people challenged by ADD, Hoarding, and chronic disorganization.