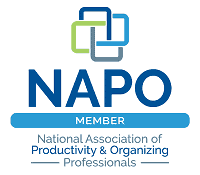 I recently returned from attending the NAPO (the National Association of Productivity and Organizing Professionals) 2019 conference in Fort Worth, Texas. This is an annual conference. I've been a NAPO member for 14 years and this is my 10th conference. I love attending this conference (some I've liked better than others for a wide variety of reasons) but it's not always practical for me to attend.
Planning For Conference
First of all, it's expensive. There are no two ways about it. The hotel, travel and meals add up and then there is the conference registration fee. Once I get the money portion figured out, I think about what else is going on in my life. I ask myself a few questions.
Will the conference take place during a time when either of my sons may be visiting? Is there another family event scheduled during the conference? Once I verify nothing else is going on then I plan to go to conference. Hopefully, I get these considerations taken care of in time to take advantage of the early bird pricing!
Meeting Friends: Old and New
There are many colleagues I regularly connect with electronically. With some, we participate in a blogging group. Others I see on Facebook. It is always a thrill to reconnect with these wonderful friends in person!
Every year, I meet new people. I love learning about them and their business. Quite often, they share something about what they do that gives me an 'Ah ha' moment.
This year, I met 2 professional organizers from the United Kingdom, 1 from China, 1 from the Netherlands, 1 from South America, and 1 from Mexico. This is truly a profession that spans the globe.
Education
This year, I attended 8 fabulous educational sessions. There was an opportunity to go to more classes, but I spent some class time connecting with my friends.
Here are some of my favorite take-aways:
Be Authentic
In the opening keynote session Michelle Prince talked about being authentic. This is a theme I heard more than once this year. Be yourself, tell your story, know what you love to do and go after that. When you know what you love to do, you can align your marketing message, your social media presence, your website to represent you in the best way possible.
Vital Documents
The Last Stage of Life – Practical Preparations for Everyone No Matter What Age presented by Audrey Billet brought home the fact that if you don't have these four vital documents (advanced medical directive, durable power of attorney, financial power of attorney,HIPPA) together in one easy to find place it's a potential medical and financial nightmare. I never realized that it's so important to have your medical directive statement as well as a financial power of attorney in place, and a signed HIPPA – even for an 18-year-old.
So, should an accident happen, their parents would not be able to make medical decisions for them. I don't have anything other than a will in place. I have work to do. Do you? Audrey Billet has a wonderful way of explaining the importance of getting everything together. Check out Audrey's website for the details regarding the paperwork you need to gather.
Let's Make a Shidduch
Do you know what a Shidduch is? I didn't. Allison Task let us know it's a match. I walked away from this presentation with three actionable tasks to do in the next month to grow my business. I am thrilled! One of these tasks is to get testimonials for my website. I know this is important and it is simple to do but I often forget to ask my clients until I'm out the door.
Allison is another speaker who talked about doing what you love. She said the path is not always a straight one, sometimes it is a zig-zag line, but if you keep reevaluating what you're doing and why you will get to do that which brings you joy and money! I know we all want both of these things.
The ICD Panel Discussion
I was so proud to listen to my Institute for Challenging Disorganization friends and colleagues review case studies and explain the process of working with clients challenged by chronic disorganization. Each one described the methods and strategies they employed to enable their clients to be successful in their quest to be more organized.
In short, the time I spent at the NAPO conference was well worthwhile. I learned something new from each and every session I attended. If you are a professional organizer and have never been to a NAPO conference I hope you will consider attending.
Diane N. Quintana is a Certified Professional Organizer, Certified Professional Organizer in Chronic Disorganization, ICD Master Trainer and owner of DNQ Solutions, LLC based in Atlanta, Georgia. Diane teaches busy people how to become organized and provides them with strategies and solutions for maintaining order in their lives. She specializes in residential and home-office organizing and in working with people challenged by ADD, Hoarding, and Chronic Disorganization.