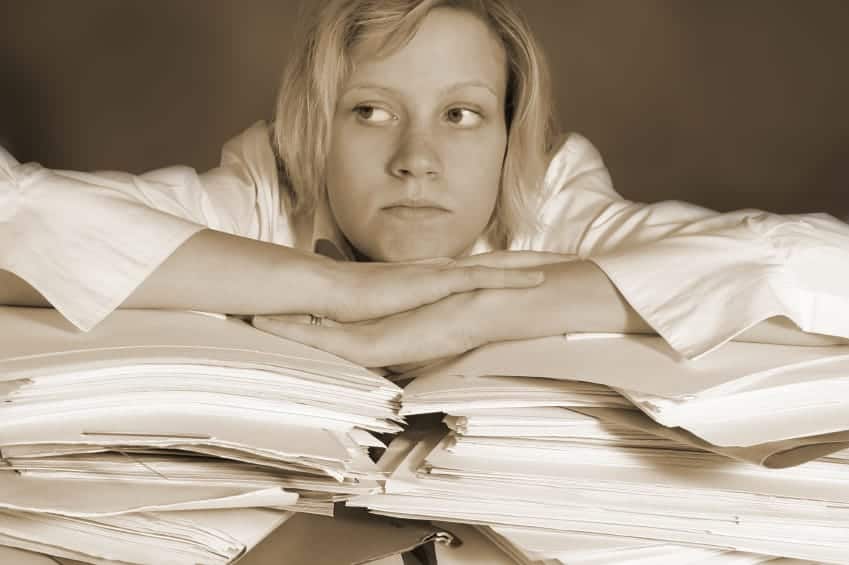 Are you buried in paper piles? Do you know what's in the stacks?
Perhaps you like to see the stack of papers as a reminder of something to take care of? Maybe it's a group – a category – of papers that you want to have easy access to? Is there anything important or vital lurking in those piles? Could your missing passport, marriage license, social security card be hidden amongst these papers?
Do you lose track of what's there? Maybe some things slip your mind or bills are left unpaid because they remain hidden in a pile? Does that ever happen to you?
I often hear from clients that they have a hard time knowing what to do with certain financial and legal documents. Which ones do they have to keep? How long should they keep them? Where should they keep them?
Other questions revolve around household receipts, user manuals, and medical receipts.
Since tax season will soon be upon us it's time to start getting these papers organized so that you can easily get those taxes done and so that going forward you'll know where to find your important documents, your bills, and your project notes or any other category of papers you may have!
This month I'll be giving you some strategies and solutions to get on top of this paper work. I'll tell you about some different ways to file your papers so that you can find what you need when you want it. No more wondering where on earth you put … and spending lots of time hunting through the stacks!
Let's start by bringing all the paper piles from around your home into one central location. Decide where you want to work on these piles and bring all the piles to that place. If you have a large table or even a card table that you can put up as a sorting spot that would be terrific! This way you can be sure that you are dealing with all the paper. Now, don't get the idea that you have to tackle all of this at once. We're going to break it down into small manageable tasks so that you can really take control of the paper as it comes into your home. I'll also be giving you some tips on how to maintain this sense of order.
Label the piles that you bring to your sorting place. You might label them by the location from which you removed them. For instance if the pile came from the kitchen label it 'kitchen'. That might trigger you to remember what's in the stack.
You will want to gather some supplies to this sorting spot. You may need some paper clips, post-it notes, a marking pen, manila file folders (these can be either colorful or plain), hanging files (these can be plain or colorful also), and a notebook binder or two. As time goes along you may decide you want other supplies but let's start with these.
Knowing where to put papers you want to keep so that you can find them at a moment's notice will give you a wonderful sense of accomplishment and peace of mind!