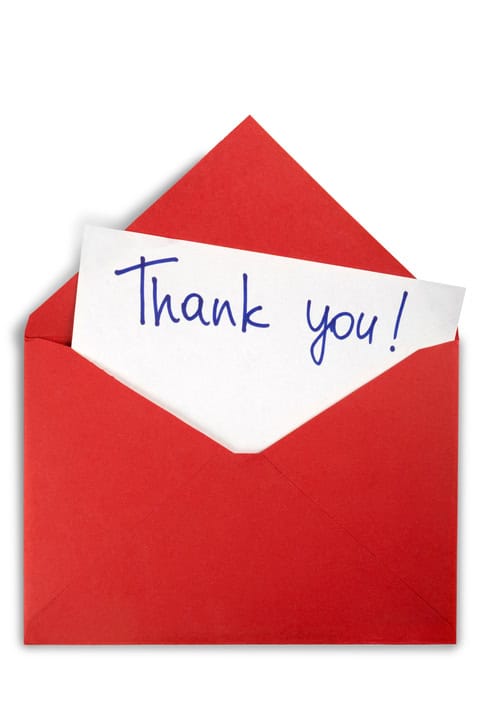 It's easier to write your thank you notes when you are prepared. Make a mental note that this is your intention. We know that buying gifts, wrapping them and making sure the person receives them takes a lot of thought. It is a sign of good manners to express your thanks within a reasonable amount of time.
Before the holidays
Before the holidays, we organize our list of gifts to buy. Make sure we have plenty of wrapping paper, ribbon, scotch tape, and tags. The final step is to either send the gifts to the recipients or bring them with us when we visit them over the holidays.
When you are on the receiving end of this thoughtful gesture the least we can do is write a note expressing your gratitude.
It's the thought that counts
It doesn't matter if the gift is not exactly what you wanted to receive. It's the thought that counts. My mother said that to me on countless occasions and I'm betting you've heard that expression before also.
How to write a thank you note
Write your thank you notes to let the person know that you appreciate the time, effort and expense they went to in order to give you a gift whether or not you like it. As I said, it's the thought that counts. Your note can be short and sweet. Here's a basic outline to help you write a thank you note:
Thank you for the (describe the gift)
It was so thoughtful of you to remember me (say what the holiday is – Christmas, Channukah, Kwanzaa)
Now say something about how you spent the day. If you really love the gift you can say how you will use it or that it fills a certain need you had.
Close your note with: Hope you had a wonderful (name the holiday) also.
A salutation and your name
You can also write a thank you note to express your gratitude for being invited to someone's home for dinner or to a holiday party.
Notecards
Look for nice, inexpensive packages of notecards at your local grocery store. I found some packages with 8 cards at the Publix near me. Typically, the card says Thank You on the outside. It has enough room for 3 to 5 sentences, depending on how large your handwriting is. I love these cards because they offer just the right amount of space to write a thoughtful but short note.
Putting pen to paper and taking the time to write your thank you notes requires that you put some effort into showing your appreciation for the gift you received. I think that's only fair since it requires effort to shop for the gift.
Make a list and Schedule time
Have a piece of paper and a pen on hand when you are opening gifts so that you can write down who gave what to you.
Schedule time during the week following the holidays to sit down and write your thank you notes. If you have lots of notes to write you may want to break them up into two or three short note writing sessions. This way you won't be overwhelmed at the thought and your handwriting will stay reasonably legible.
If you have children who receive gifts from grandparents, other relatives, or close friends make a point of including them in the thank you note writing process. If they are old enough to understand, but not yet old enough to write a card, have them say something about the gift in question. They can also either make a mark, draw a little picture, or sign their name.  There are also some pre-printed thank you cards for children where the child fills in the blank available at some card shops.
It's worth the effort
Saying thank you either in a note, or in person requires a little effort on your part. The result, though, is huge. It lets the person know that you appreciate the time and effort they put into remembering you during the holidays.
So, get some thank you cards, make a list, and remember to write your thank you notes.
Diane N. Quintana is a Certified Professional Organizer®, Certified Professional Organizer in Chronic Disorganization®, Master Trainer and owner of DNQ Solutions, LLC based in Atlanta, Georgia. Diane teaches busy people how to become organized and provides them with strategies and solutions for maintaining order in their lives. She specializes in residential and home-office organizing and in working with people affected by ADD, Hoarding, and chronic disorganization.