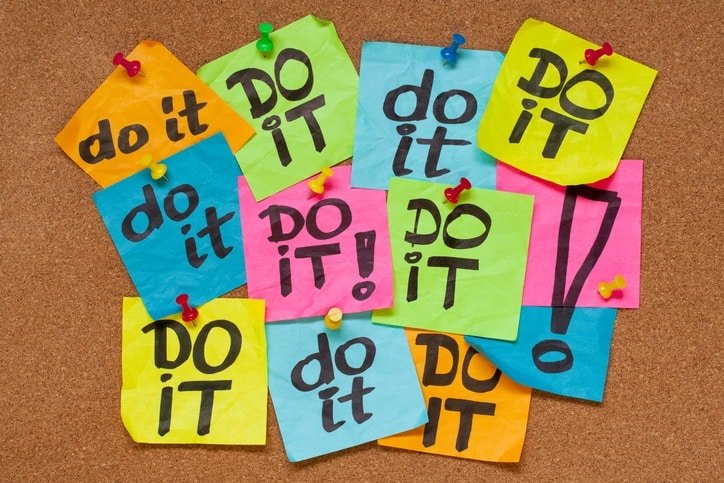 Have you ever noticed how little you get done when you are stressing, anxious, or upset?
You spend time worrying about all the things you have to do and little time focusing on getting things done. It's overwhelming and frustrating!
Think about how much you could do if you took the time and energy you spent on worrying and applied it to your task list.
I am, I think, in the middle of one of the busiest times of my life and that is saying a lot! I think back to other busy times; when I moved our family from Connecticut to Singapore, organizing various and sundry volunteer events and I think I know I was busy then. Why is this any different?
The difference is that I am involved in multiple projects and they are all coming due at the same time. That is a prime example of bad planning. But, no one planned it – it just happened. And, it is overwhelming. There are no two ways about it.
How am I staying on top of all of this without stressing?
Well, let's be honest – I do stress a little.
Do One Thing
I look for something to do to move one thing forward. If I stop, take a breath, and acknowledge that I CAN do this. I relax into the process of getting that one thing done. And then another.
I know everything is going to be fine.
I know that everything that must be done, will be. Are there little details that may get left behind? Perhaps. Most likely not anything that anyone other than myself and a very few other people will notice but time will tell.
Overwhelmed?
At this time of year, when schools are gearing back up there's lots going on – especially for busy parents.
There are school supplies to purchase. Made more complicated by the fact that each school system and grade level has their own set of requirements.
Clothes to look at and assess. Has the child outgrown their shoes? Is the backpack good enough to use?
Does your child need/want electronics – phone, tablet, laptop?
There may also be volunteer opportunities for parents to sign up for.
This is on top of your job, paying bills, doing chores, taking care of the children, and your home!
I've only mentioned a very small sample of things that may be going on which stress people out.
How are you going to get this done?
RELAX
Did you know that when you smile your face relaxes? It also relaxes people around you. When you smile at someone, usually they will smile back. It's an easy way to create a friendly atmosphere which is much more relaxing.
BREATHE
Take a breath – a really big inhale and exhale. You will think better.
Three things at a time
Think of things in threes. What are three things to do? Once they are done, think of the next one, two or three things.
Try not to make a lengthy list.
If you do make a lengthy list, create small lists to keep you on track for the three things you are doing right now.
Three is an easy number. Do one thing and there are only two more things to do. Get one more done, leaving one thing to finish that part of the list. Do the final thing and give yourself a reward!
Reward yourself
Relax. Smile. Read a book or a magazine. Listen to beautiful music. Sit and watch the grass grow. Play a game with your child. Walk the dog. Take a powernap.
Then do the next three things.
Use a paper calendar
Use a calendar. I like paper calendars because I can see the week at a glance. Try and plan your week so that you spread things out over the days and times you have available
This is how I'm going to get all the things I need to do done!
How about you?
Are you overwhelmed by all that you have on your plate? Relax. Try my strategy. Let me know if it works for you!
Diane N. Quintana is a Certified Professional Organizer, Certified Professional Organizer in Chronic Disorganization, ICD Master Trainer and owner of DNQ Solutions, LLC, based in Atlanta, Georgia. An accomplished speaker and author of four books she teaches professionals and working parents how to become organized and provides them with strategies and solutions for maintaining order in their busy lives. She specializes in residential and home-office organizing in metropolitan Atlanta and in working with people challenged by ADD, Hoarding, and chronic disorganization.