Have you noticed? The days are longer, and the sunlight is a little brighter. Here in Georgia little buds have appeared on branches. In areas that get more sun leaves have are popping out, and daffodils are blooming. There are signs all over the place that trees and flowers are on their way. I love this! Of course, the weeds have also made an appearance.
These are signs that Spring is, if not here, then on its way. With it comes a host of things to do. Things I haven't paid attention to during the winter. Like the weeding. Since gardening is a passion for me I'll be scheduling some time during the week to tackle this task. I have a large garden. So, weeding the entire garden in a day is an overwhelming thought and one that makes my back hurt just thinking about it. Rather than do that I have separated my garden into zones.
In thinking about my garden in terms of different zones I can work on one zone or area at a time. I can do a little weeding, a little clipping, and even some transplanting in that zone. I'll walk around and decide which zone needs the most attention. I'll create a plan, listing the different zones and the order in which I'll work on them. The one that's the neediest will get my attention first.
I can't wait to go out and play in the dirt!
The inside of my house is also in need of attention. The brighter light shows me where dust bunnies are hiding. Since I have two dogs sometimes their hair drifts into corners and hides from the vacuum cleaner. I do vacuum regularly but sometimes not very thoroughly.
There are other things to do to get my house ready for springtime.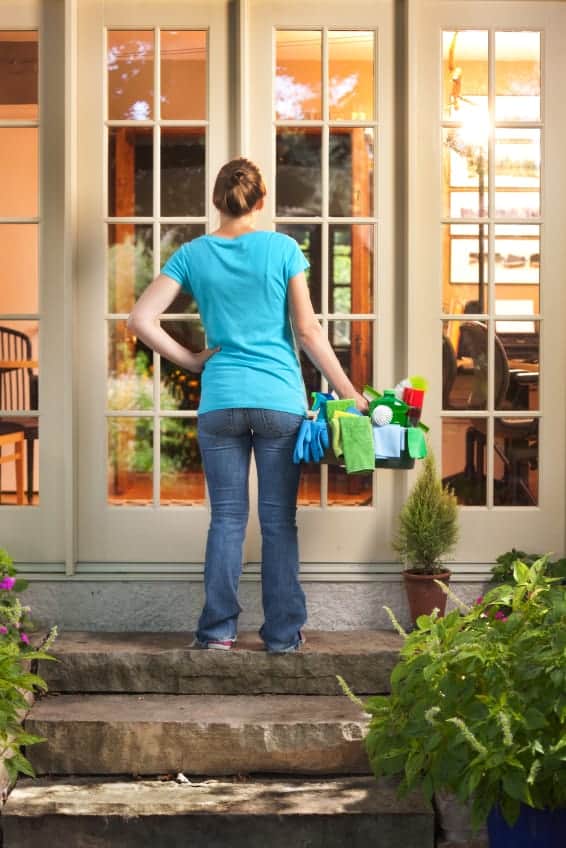 I change the batteries in my smoke/carbon dioxide alarms, clean the window screens to get them ready to put in the windows, and, of course, that also means dusting the window sills!
There are other things to do to get my house ready which I can't do myself but which I can arrange for someone else to do.
These are things like getting the windows washed (my upstairs windows are so high up, I can't reach them on my ladder), checking the Air conditioning units to make sure they're running efficiently,
Another area to consider is your closet. As you are cycling out your winter clothes put aside any that you didn't wear this past winter. I know that consignment stores do not take out of season clothes. However; if you remove these winter clothes from your collection now, when September rolls around you'll have them ready to take to your favorite charity or to a consignment store. Also, remove any spring/summer clothes that you didn't wear last year.
If you think there's a chance you might wear them this year then, by all means, put them in your closet. Here's a trick! Put them in your closet with the hanger facing the wrong way. If you wear them, turn the hanger the right way. If at the end of the season the hanger is still facing the wrong direction that's a sure signal that it's time for this clothing item to leave your closet.
These tasks that I've mentioned are too many to tackle at once – much like my garden. Chunk them up. Decide which task needs your attention first. Schedule it in your calendar. Make the appointment with yourself and then keep the appointment. Click here for a complete list of spring cleaning ideas.
Check out this article with great short cuts for cleaning many different spots in your home.https://electrosawhq.com/simple-hacks-to-clean-your-house/
If you do better working for rewards, then create a reward for yourself. You could give yourself time with a good book, an activity with a friend like a movie, lunch or dinner, or maybe a mani/pedi. My reward for doing inside chores is time spent outside in my garden.
You decide what works best for you.
Have a wonderful spring! I hope you get outside and enjoy all the wonderful flowers of the season!