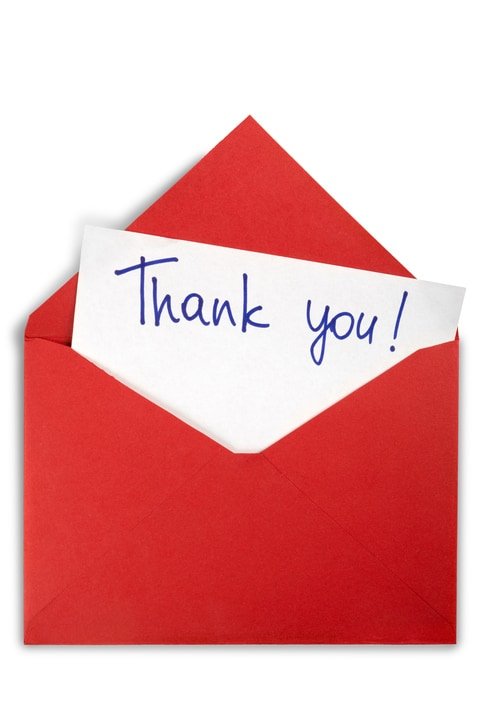 Monday this week was National Thank You Note Writing Day. I never knew there was such a thing. That's a great idea! To sit down the day after Christmas and write notes to thank friends or family for their gifts. Traditionally in my family we make a list of people to thank as we open their gifts and we plan to have our notes written by the middle of January.
My mother was a stickler for thank you notes. She was very particular and (when I was a child) she read my notes before they were mailed to make sure they were good enough. My mother had me writing notes for all sorts of gifts – not just Christmas gifts.
She taught me to write a note after spending a weekend with a friend. I didn't actually write my friend, I wrote a note to my friend's parents to thank them for hosting me for the weekend. This is a tradition I still enjoy. I write my friends and relatives as soon as I return from a trip. If you're wondering why I do this, the reason is simple. I write to let my friends know that I appreciate their friendship and the time spent with them.
My mother also taught me to write a thank you note to express my thanks when someone has gone out of their way to do something for me.  It can be something like helping me with a project or including me in a family event.
Handwritten thank you notes are very powerful tools. First of all, they indicate to the recipient that you have taken the time to put pen to paper, written your thoughts, purchased a stamp, and made sure the envelope actually was mailed.
You may choose to write a personal thank you note to someone who has taken the time to interview you for a job. An email thank you is important because the person receives it right away. A handwritten thank you note is also a good idea as it shows the interviewer that you are sincere about your interest in the job.
There is a simple formula to use when writing a thank you note.
Thank the person for the gift – be sure to say exactly what the gift is.
Indicate how you might use the gift – if it is something to use.

NOTE: if you don't like the gift just thank the person for their thoughtfulness and skip from step 1 to step 3

Tell the person something about yourself – what you are doing for your job, about your family or your home – maybe you are working on a home improvement project.
Close your note by wishing the person well and repeating your thanks.
While it's great to write thank you notes following this wonderful season of gift giving and receiving. I suggest that it's important to write thank you notes whenever you feel like expressing your gratitude.
Write me back and tell me about your experience writing thank you notes.