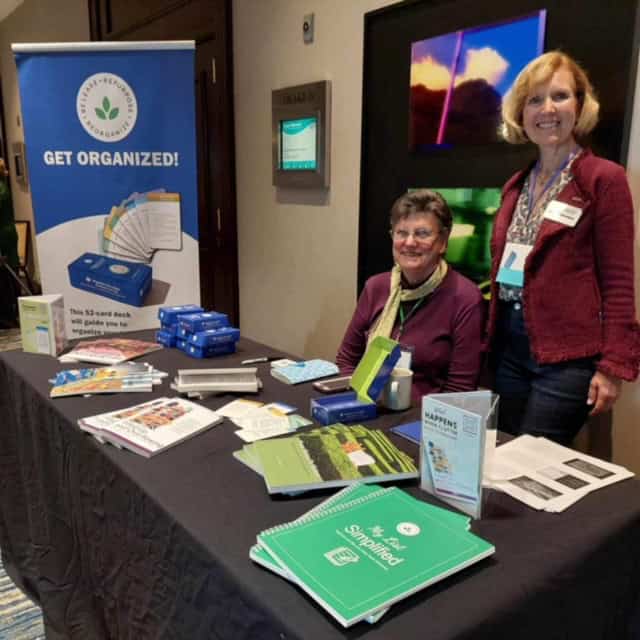 Recently I spent the better part of the week with (as one person said) frolleagues – friends who are also colleagues. We were all attending the 2023 conference with the Institute for Challenging Disorganization® in Waltham, Massachusetts at the Embassy Suites. In the interest of transparency, I helped to organize the conference with Kim Cox. It was a wonderful event! I participated in many great conversations, shared warm hugs, and received terrific education. I want to give you my reasons to attend the ICD® conference.
There are several things to know about the ICD® conference in general. There is one session per time slot. Everyone attends the same session. This gives you natural things to talk about with anyone you encounter, friend or soon to be friend. The topics all relate back to chronic disorganization in one way or another as this is the mission of ICD®; to provide education, research, and strategies to benefit people challenged by chronic disorganization. (Taken from the ICD website).
The organizers intentionally keep the conference on the small side of things so that it feels like you can approach anyone and everyone. Every conference has a different theme. The theme for the 2023 ICD® conference was Grow Your Mindset with ICD®.
Participate in 7 sessions over 2 days
When you attend the ICD® conference, prepare to have your mind blown away by the level of education. Our goal as conference organizers is to provide our attendees with top level graduate education which is intended to further the organizer's understanding of the topic at hand. Sometimes you come away with actionable steps to take with your clients. Other sessions provide you with a deeper understanding of the challenges your clients may face.
This past year there were 7 unique presentations. There were 4 on Friday and 3 on Saturday. The conference ended around 4pm on Saturday giving participants time to catch an evening flight so they can spend Sunday at home.
We opened our conference Thursday late afternoon with a surprise presentation from the organizing thought leader, Judith Kolberg. Judith is one of the founding members of ICD®  although it was then called the National Study Group on Chronic Disorganization. In fact, she is the one who first coined the expression: Chronic Disorganization.
Make frolleagues when you attend the ICD® Conference
ICD® is a global organization and as such attracts organizers and related professionals from many different countries around the world. This year I was fortunate to meet someone from Romania, from Greece, and reconnected with organizers from England, The Netherlands, Canada, and Mexico to name a few countries.
These professionals quickly become friends and colleagues. We have much in common. Even though our cultures are different, we encounter similar challenges when working with clients with brain-based conditions like ADHD, Autism, or Hoarding tendencies.
I love listening to frolleagues talk about the strategies they use in their work as well as sharing some strategies I employ.
Fabulous presentations from experts in their fields
There are too many fabulous takeaways to even begin to list them all here. Since I want to give you a sample, I am going to give you some small takeaways from each of the 7 presentations.
Judith Kolberg: As a small business owner you need to be ready to pivot. Keep your mind open to other revenue streams such as virtual organizing, blogging, or coaching.
Beth Nolan, Ph.D. (Communication and Dementia) When working with a person challenged by Dementia remember they are still the person they always have been. See if you can learn about their personal preferences. Work with them to find things you can agree on.
David Tolin, Ph.D. (Hoarding: Chasing a New Diagnosis Through Brain, Body, and Behavior) It was very exciting to learn new statistics related to the Hoarding Disorder. It was also interesting to learn that CBT does not create lasting change in behavior and new theories for treatment are being investigated.
Devon Price, Ph.D. (Rethinking Pathological Demand Avoidance: Lack of Ability or Act of Protest) It is best to say 'Autistic person' rather than challenged by autism. Another way to think about PDA is Persistent Drive for Autonomy. Perhaps the demands or what is being asked of the person is the problem.
Linda Roggli (Tip of the Iceberg: Digging Deeper to Bolster Your ADHD Female Clients) Rejection Sensitive Dysphoria is something to be aware of and on the look out for. We need to be hyper aware of our tone of voice and body language, so we don't inadvertently signal rejection or dissatisfaction with something the client has done – or not done.
Alicia Clark, Ph. D. (Anxiety into Action: How to Help the Chronically Disorganized Take Control) Anxiety has a volume curve. We need to be sensitive to the level of anxiety our client is facing and try to keep their anxiety at the top of the curve or at the 'chatter' level.
Time Management Panel with Sara Skillen, Cena Block, Ellen Faye, and Cindy Sullivan This was a wonderful panel discussion with each of the panelists describing their strategies for working with clients to manage their time better.
Leslie Hatch Gail, Ph.D. (From Deficit to Capacity: An Asset Based Approach to Challenging Disorganization) This focuses on what is working well for the client. Helping them to acknowledge and work with their strengths to achieve the best outcome.
In Conclusion: 
The ICD® Conference is one I hope never to miss. The opportunity to make connections with like-minded professionals (professional organizers, therapists, social workers) is one of the three reasons to make the effort to be there in-person. The atmosphere is one of collaboration and cooperation as we all sit and learn together from experts in their fields. If you've never been to an ICD® conference maybe this little review will push you to attend the ICD® Conference in 2024.
Diane N. Quintana is an ICD® Master Trainer, Certified Professional Organizer in Chronic Disorganization®, Certified Professional Organizer®, owner of DNQ Solutions, LLC and co-owner of Release Repurpose Reorganize LLC based in Atlanta, Georgia.