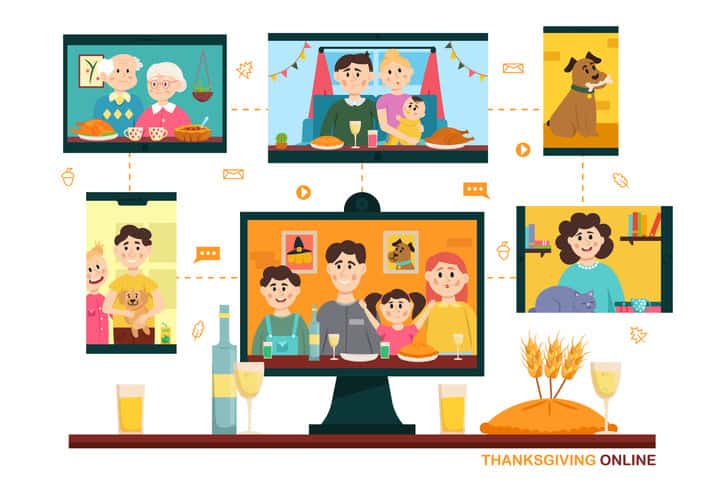 People ask, "what are you doing for Thanksgiving?". This can be an awkward question to answer. No one wants to answer, "Nothing". During this very strange time when we are all being told to isolate and maintain social distance it may be difficult for someone who lives alone to figure out how to celebrate the day.
If this is you, I have some ideas to share.
Think outside the box
If you have family or friends who are family within easy driving distance find out if there is a way for you to be respectfully together to celebrate the day. There may be a park, or they may have an outside area at their home where you could get together and celebrate.
You would bring your own meal, folding chair, and everyone would wear their masks except when eating.
Take a hike
Is there a hike, a trail, or a park you've wanted to explore? Pack a picnic, include plenty of water, and make a day of it. Cue up a couple of great podcasts, wear your hiking boots, and have an adventure. If you have a dog, bring him/her along. They will also love the adventure! This is could be a wonderful way to celebrate the day, provided the weather cooperates.
Be sure to let someone know where you are going, just in case.
Indulge in fitness
Maybe you've been interested in getting back in shape. Why not start on Thanksgiving Day? Some fitness studios or gyms offer special classes on Thanksgiving Day. Bodyfitz in Sandy Springs has a class offered by the owner and personal trainer, Dan Fitzsimons. The idea is that people take a class and burn off lots of calories so that they can eat their fill at dinner. Maybe there is a class like that near where you live.
What about Thanksgiving Dinner?
How do you celebrate with a special Thanksgiving Dinner when you live alone and are following the Covid guidelines by staying separated?  Of course, you know you can order a meal from a restaurant. One of my favorite restaurants in Sandy Springs, Breadwinner Café and Bakery, has a special Thanksgiving Menu from which to order. They are making all the familiar sides and offering them in a variety of portion sizes. You can buy lots so you have leftovers, or you can get just enough for you. They even have roasted turkey by the pound. Make way for turkey sandwiches!
Check out Breadwinner if you are in the Atlanta area. If you're not, there is probably a restaurant in your town that is doing something similar.
Zoom
Connect with your family and friends in advance and schedule time to talk to them face-to-face on Thanksgiving Day. This way you can celebrate with them virtually. One of my friends, with whom I have spent many a Thanksgiving Day, sent out an invitation to play a game on Zoom at 3pm on Thanksgiving. We always play a game when we are together, so this invitation came as no surprise.
Be creative and think outside the box. Find something special that you've wanted to do and plan to do it – if possible. Connect with family and friends. Have a delicious meal and celebrate. Above all remember what the day is about. It's a time to remember all the things, big and small, for which we are thankful.
Diane N. Quintana is a Certified Professional Organizer® owner of DNQ Solutions, LLC and co-owner of Release, Repurpose, Reorganize in Atlanta, Georgia. Diane specializes in residential and home-office organizing and working with people affected by ADHD, hoarding challenges, and chronic disorganization. Please contact Diane for a free 30-minute phone consultation.