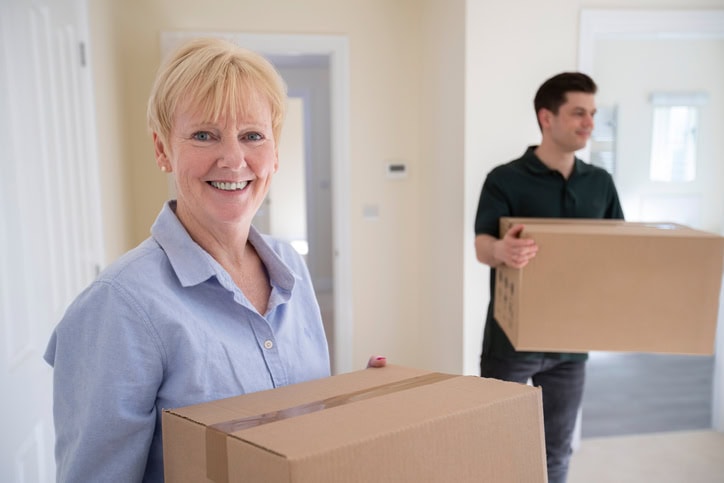 Are you getting ready to sell your home and move to a smaller place? Or, are you downsizing and staying where you are? No matter which you are doing you will need to evaluate your belongings and decide what stays and what goes. If you have lived in your home for more than a couple of years you will have lots to assess. How will you do this with a minimum of fuss and bother? Is it even possible to downsize your home without drama? As a professional organizer, I can tell you the answer is "Yes!". I have done this for myself as well as for others.
How to downsize and declutter your home
The first thing to do is decide if you are downsizing and remaining where you are or moving to a smaller place.
Reducing what you have and staying where you are is a wonderful way to downsize. When you do that, you eliminate any furniture, decorations, knick-knacks, and belongings that you are either no longer using or that you no longer love.
Why downsize and stay where you are? Maybe there is no driving reason to move. When you declutter and downsize your home there is less to clean, less to take care of, and less for someone who empties your home once you are gone to deal with.
Have a party
One strategy to declutter your home is to have a party. You can use this strategy if you are downsizing and staying in place or downsizing and moving. Invite all your friends and neighbors. Put all the things you don't love or use anymore out on display. Tell your friends that before they leave the party they have to take one thing from the stuff on display away with them.
Tell your friends the stories behind the things you are giving away. It's wonderful to relive the memories and to know that your friends will take the memory with them – along with the object you no longer want.
This strategy removes the things you don't want to keep and you can be confident these things are going to have a new home with a friend.
Giving the furniture to family
There was a time when I was thinking about downsizing my home dramatically and moving to a much smaller place. At that time I had conversations with my son and his wife about certain pieces of furniture I was sure they would want in their home.
We talked about my beautiful dining table that has 3 leaves and can expand from seating 6 comfortably to seating 12. My husband designed it along with the sideboard when we lived in Bangkok, Thailand. It's made of solid teak wood and has 12 teak wood chairs that go with it. It's gorgeous and so versatile. I love it.
Then there are the two beautiful old chests of drawers that came from my grandfather's house. Furniture is just not made this way anymore. These pieces are solid and heavy. They can hold lots of clothes or linens.
I asked my son and his wife because I knew they were moving into a much bigger house with more bedrooms. My son's wife very sweetly said we will think about it. Then she added, if we take these pieces of furniture just for now because we need furniture will you be alright if we donate them if we change how we want to decorate?
How did I feel about this?
I was happy when I thought these pieces of furniture were going to have a place in my son's home. They would have a history with him and his family. The chests of drawers have been in our family for generations. I didn't like the thought of spending the money to ship these pieces of furniture to them only to have them donate them in a few months. I decided not to move after all and to keep the furniture.
Are you ready to downsize your home?
If you are considering downsizing and have furniture that you know you can't use in your new home, ask your children before you ship it off to them.
Your children will most likely have different decorating styles from you. They may want these pieces of furniture, they may not.
How will you feel if they take the furniture, just for now?
Things to think about
Remind yourself these are inanimate objects which serve a purpose. Just as you do not want more furniture than your house can hold, your children probably do not want to be guilted into taking furniture they don't want.
Ask yourself these questions:
Can you sell them? Maybe take them to a consignment store or sell them yourself online. Understand that you may only receive a small amount of money of what you think is the value for them.
Is there a particular charity or donation site that speaks to your heart? There are many organizations which help people with a limited budget acquire necessary furniture for their homes.
Do some research in your town to find a charity you may want to support.
At the end of the day, I want my children to feel comfortable in their homes and to have furniture which supports the life they want to live. I don't want to saddle them with things which may not fit their vision. I'm willing to bet you feel the same way.
If you're ready to downsize your home and want guidance from someone who has been through this process reach out to me. I know how difficult it can be to declutter and downsize your home. Our things trigger memories of places we've been and people we've loved. The truth is that the memories will always be a part of us even when our things are benefiting other people.
Diane N. Quintana is a Certified Professional Organizer® ,a Certified Professional Organizer in Chronic Disorganization®, Master Trainer and owner of DNQ Solutions, LLC and co-owner of Release●Repurpose●Reorganize, LLC based in Atlanta, Georgia