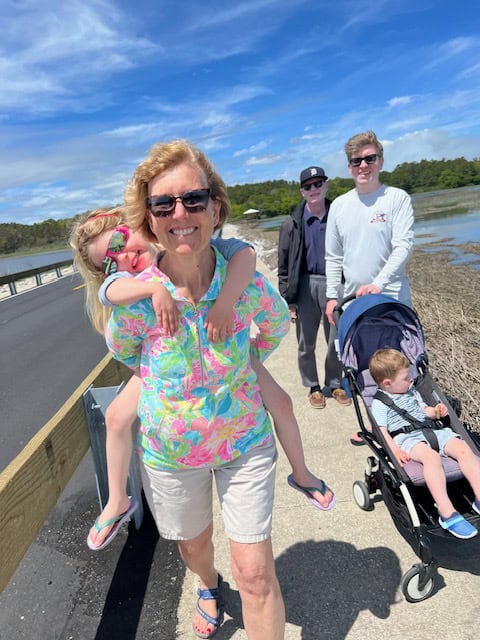 It can be hard to have a 100% successful vacation under the best of circumstances and even more challenging when there are multiple generations to consider. I have just returned from a super fabulous and successful multi-generation vacation to Myrtle Beach with my son and his family. They flew to Atlanta, spent Easter here, and then we drove to Myrtle Beach.
That sounds very straight-forward, doesn't it? Well, what I didn't initially say is that this adventure included my two-year old grandson and my five-year old granddaughter. There were 3 generations on this trip. My husband and I are seniors. My son, Alex, and his wife, Judy, are Millennials. And then there are the grandchildren. Myrtle Beach is a solid 5 ½ hour to 6-hour drive from Atlanta. Can you imagine a trip like this?
I believe there are three essential elements involved in having a successful vacation of any kind and truly important when you have multiple generations on vacation together. Read on to find out what they are.
Our Successful Multi-Generation Vacation
Planning
Of course, every vacation requires an element of planning. You plan where you will stay and often plan where to have your meals by making reservations at specific restaurants if it is a busy time of year.
My job was to plan where to stay. I found the Sheraton Broadway in Myrtle Beach. This resort offers two-bedroom suites connected by a family room. It also has a washer and drier which are important when you are traveling with small children. And a small kitchen which is also important. More about that in a minute. We took two of these units. The children and grandchildren in one and my husband and me in the other.
Alex planned our driving route. He and Judy knew the children can be happy in the car for about 3 hours. We took 2 cars because neither of our cars was big enough for 4 adults plus 2 children in car seats. The idea was to divide the grandchildren. Alex and Judy would switch cars at the halfway meeting point. Alex did some research and found the Riverbanks Zoo in Columbia, South Carolina. Ari and Susana love to go to the Zoo. It was a fabulous place to stop.
All of us benefited from the opportunity to stop and stretch our legs. The children ran around, saw some great animal exhibits, and we had a little lunch.
Our short stop to stretch our legs turned into a longer stop because there was so much to see and do. I'm an avid gardener and would have loved to spend time at their Botanical Garden. This gives me a good reason to go back.
Judy and Alex worked together to figure out where to have our dinners and made the reservations for times that would be fine for the little ones.
Planning our days at Myrtle Beach
I am an admitted sun worshipper. I am always happy to spend endless hours in the sunshine either lounging or reading a good book when I am on vacation.
This, as you may have guessed, is not in the cards when you are traveling with multiple generations and interests.
The grandchildren were happy to play at the beach for a bit. But even though the sun was strong the water was chilly. Since Ari is only two years old it is best if he can take an afternoon nap. Although Susana is five and has unlimited energy she does better when she has some quiet time in the afternoons, too.
Once again Alex did some research.
At one beach Alex, Judy and the children made a fabulous sandcastle and found lots of shells. On the next day, we went to Huntington Beach State Park. There we saw Atalaya Castle and went for a great walk to see lots of alligators sunning themselves in the shallow water.
For our return trip to Atlanta, Alex planned a stop in Camden, South Carolina to visit an historical site. He knows it's important to have different things to see and do.
Preparing
Since Myrtle Beach is within a days' drive, we brought along a cooler filled with breakfast and lunch foods as well as some leftovers from our Easter dinner. I even packed some snacks to keep in the kitchens in our suites.
I keep a running grocery list of family favorites for snacks and had little snacks on hand for when anyone got a little hungry.
When my children were small, I carried a tote bag that became sort of like a Mary Poppins bag. Whatever anyone needed was usually in my tote bag. I decided to bring along a tote bag for this trip so that I was prepared to temporarily keep the things that anyone wanted to hand me.
The thing you can never prepare for is inclement weather. We were very lucky and had beautiful sunny days for our entire trip.
Flexibility
There are many reasons to plan and to prepare when you take a trip but I believe the most important thing to do when you travel anywhere with anyone is to be flexible.
This skill comes in handy as a professional organizer because we must often tweak and tweak again organizing strategies, so they work with an individual's natural tendencies.
Being flexible when you are traveling, particularly when you are traveling with multiple generations, is imperative.
Alex and Judy are experts at being flexible. When we were dining out, which we did for several lunches and all our dinners, they took turns jumping up to chase Ari who has a hard time sitting still. Of course, since he is only two years old that is to be expected.
There were also a couple of times when we thought we were going to see or do something, and we shifted gears. Either there was no more interest in the event, or a different and better option was presented. No matter. Everyone flexed their flexibility muscles, and we changed our plan with smiles on our faces.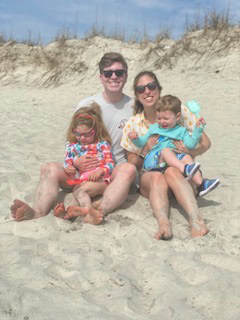 In conclusion
If you are traveling with or without multiple generations this spring or summer and want to have a successful vacation, remember to incorporate these three essential elements: planning, preparing, and flexibility.
When you have a plan, it can be tweaked. If you don't plan, you don't have anything from which to work.
When you prepare by packing a selection of clothes and favorite snacks you know you will be comfortable and that no one will get that hungry angry attitude.
Being flexible provides options. We all know that we can't control the weather. Be willing to shift gears if the weather changes, if you have to stop to let a member of the group rest, or if someone has a strong opinion and wants to do something different.
I had a super successful multi-generation vacation and I hope your vacation will be super successful, too. If you want help planning a vacation or any project reach out to me to schedule a 15-minute consultation to find out if in-person organizing, virtual organizing, or a clutter support group is a good fit for you.
Diane N. Quintana is a Certified Professional Organizer® ,a Certified Professional Organizer in Chronic Disorganization®, Master Trainer and owner of DNQ Solutions, LLC and co-owner of Release●Repurpose●Reorganize, LLC based in Atlanta, Georgia.