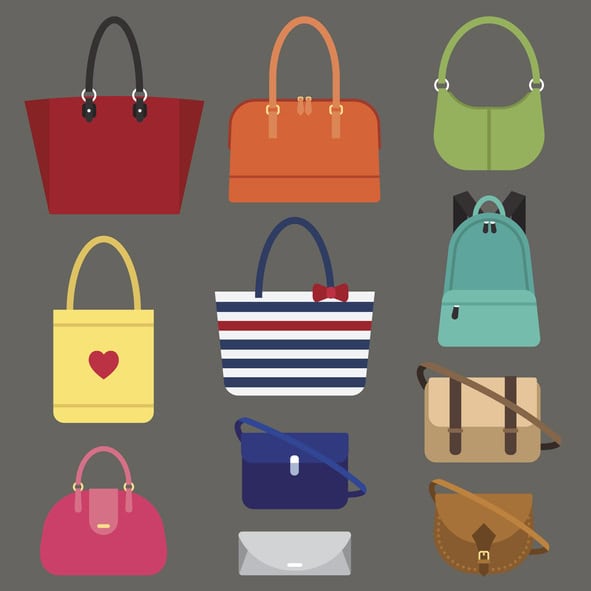 Let's be honest, here. I don't know about your purse, but my purse contains my life. When I don't know where it is I get a little anxious. How about you? When I can't find something that I KNOW is in my purse I also get a little anxious and even upset. I think to myself, it must be there. That's where I always put … (you can fill in the blank). Does that ever happen to you? It is very important to me to keep my purse organized because it's one simple way for me to avoid stress and anxiety. It's not difficult to organize your purse and I will share with you my simple strategies to organize your purse.
Before we begin to organize your purse, let's acknowledge that your purse, like my purse, is probably a catch-all for things that you encounter when you're out and about during the day. If I have a little trash and can't find a waste basket, into my purse it goes. Then there are little things, like a flyer I found at one of my favorite local shops, Breadwinner, advertising their specials. At this time of year, my purse also holds things like my gloves and sometimes a hat. And receipts from holiday shopping. Of course, all this is in addition to the things I must have with me at all times like my keys, wallet, phone, and glasses.
Simple Strategies to Organize Your Purse.
Empty your purse
The first step is to empty your purse.
Toss the trash and then group like with like. Put the receipts from your holiday shopping in an envelope and label it.
Go on a treasure hunt
Did you find things you have been looking for?
Sometimes I find coins, dollar bills, and even a credit card at the bottom of my purse. Why? Well, if I'm in a hurry I don't always take the time to put things back exactly where they belong, like in my wallet. I just toss them in my purse and away I go.
Keep a few coins in your wallet along with some dollar bills, just in case. Put the credit card back where it belongs.
Extra make-up
I have a little make-up bag in my purse, and it's supposed to hold a small tube of lotion, a small pack of tissues, hand sanitizer, and lipstick. My make-up bag is big enough to hold those things and small enough to fit in my purse. The issue is that when I need a tissue, I don't have time to rummage through my purse, unzip the make-up bag, and grab a tissue. I tend to leave the small pack of tissues out of the small make-up bag.
Let's make this easy.
Tools To Organize Your Purse
Organizing insert for your purse
Here is an example of a holder for these small things that makes it easy to access them and easy to put them back.
There's a place for my lipstick, glasses, tissues, pens, a small notepad, and more.
It is a purse perfector.
The best thing about this is that it easily lifts out of one purse and slots into another if you like to change your purse from time to time. You can be sure using something like this helps you to organize your purse. It is truly helpful in tote bags which tend to be just empty space without any zippered compartments.
Holder for credit cards
I love this little holder for credit cards. It has a window to store my driver's license and slots to hold credit cards. Plus, a zippered section where you can keep a few dollar bills, if you want, or other credit (or loyalty) cards. It easily fits in a pocket or a section of your purse organizing insert. Even better it is RFID. No one can use a reader to steal your credit card or driver's license information when it is in this holder.
The other reason I like this holder is that it is easy for me to put my credit card back in the slot. I don't have to open a wallet. I just pull this little holder out of my purse, use the card, and slip it back to where it belongs. There are many of these on the market. This one comes from IDStonghold.

This is the key to being organized, right. Making it easy to put things back where they belong so you can find them again.
Leash or clip for your keys
Some purses have a little leash on the inside to which you can clip your keys. That makes it super simple.
Don't despair if your purse doesn't have a leash. You can create a place in your purse to always clip your keys.
Use a carabiner to create your own keychain clip or select one from the endless links if you do a search on google for Carabiner Keychain.
Use these simple strategies to organize your purse and avoid the stress of wondering where your wallet, keys, and anything else you routinely carry in your purse have vanished.
For more organizing tips like this follow me on Facebook and Instagram and sign up for my newsletter.
Diane N. Quintana is a Certified Professional Organizer® ,a Certified Professional Organizer in Chronic Disorganization®, Master Trainer and owner of DNQ Solutions, LLC and co-owner of Release●Repurpose●Reorganize, LLC based in Atlanta, Georgia.