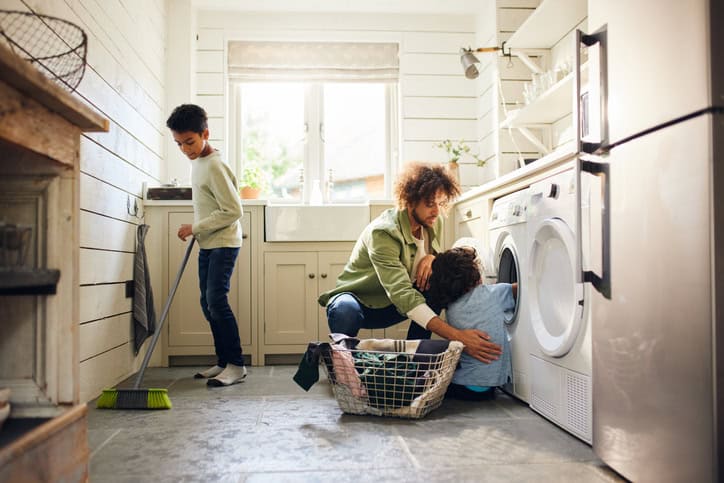 Last week I wrote about the best reason to declutter and organize your home. It is, in case you don't know, for you. Declutter and organize your home to make it look the way you want it to, to make yourself happy. Often we let things slide because no one else is around to be clean, tidy, and organized for. We ask ourselves 'why bother?' and 'who cares?'. The flip side of this is that if we don't bother to clean up, tidy, and declutter after ourselves we end up with a home that is so disorganized that we become overwhelmed and don't know where to begin. What if you use life hacks or shortcuts to motivate you to begin creating better home maintenance routines?
It's always better to do something than nothing.
Doing nothing gets you nowhere, right?
Think about how you feel when you go to get something to wear and there are no clean clothes. Or when you reach into a cabinet and there are no clean plates. Life can be easier when you incorporate chores even when you don't feel like doing them.
I am proposing that you use these shortcuts to get you half-way to completing an organizing chore.
Use Life Hacks
Life hack for doing dishes
There are times when you may not have enough time to do the dishes before leaving the house. If you leave them by the sink they will be harder to clean with the crusted dried-on bits of food. If you have a small dish-pan either in the sink or beside the sink filled with soapy water you can put the dirty dishes there to let them soak. They will be much easier to wash when you have time.
Using this life hack creates the routine of doing something with the dishes. It gets you about half-way done. All you do, when you are ready, is take then out of the dish pan and put them in the dishwasher or rinse them and dry them. No need to wash the dishes since they were sitting in soapy water.
Using this life hack also avoids the messy pile-up of dishes next to the sink shouting at you to do something.
Life hack for making the bed
When you make your bed, your bedroom looks tidier. There's no question about it. Typically, the bed is one of the largest pieces of furniture in the bedroom when it is messy everything else looks messy too.
Sometimes the routine of making the bed is overcomplicated by the things we use. Keep it simple if you don't like to make your bed. There's no need to use a top sheet, a blanket, and a blanket cover unless you want to and like making your bed that way.
To keep it simple, have a fitted sheet on the mattress and a duvet or comforter on top of the bed. If you like lots of blankets, you can always layer more blankets on top.
Add some pillows and you're done.
Now, all you need to do to make your bed is pull up the duvet or comforter and plump up the pillows. If you use extra blankets, fold them and put them at the foot of the bed. You will be done in less than 5 minutes.
Life hack for doing laundry
I like folding and putting laundry away but if you don't and if your laundry just sits around your home on various pieces of furniture shouting at you to do something consider a different strategy.
If you have space in or near your laundry set up a small clothes rack with extra hangers. Anything that needs to be hung up can go there straight away, right out of the dryer.
Use small baskets and label them according to clothing type for instance under garments, socks, exercise clothes, t-shirts. Just sort the clothes from the dryer into these baskets. Then take the baskets to your bedroom.
You can either dump the contents into drawers or leave the labeled baskets neatly lined up against the wall in your bedroom.
Using this life hack gets you half-way through the laundry process. It's not for everyone but if you're struggling to fold and put away laundry this life hack will at the very least keep the laundry out of your family room, so the sofa and chairs are available for you.
Better Home Maintenance Routines
These shortcuts will bring you a little closer to completing household chores that everyone has and that very few love to do. Unfortunately, these chores do not do themselves. We do them because if we don't our homes become ever messier. If you find yourself thinking that you don't want to do dishes, make your bed, or do laundry try one of these shortcuts to do some part of the process.
The more you do a little something toward tidying and decluttering your home, the more you may find yourself liking the way it looks and feels just for you. Afterall, you live in your home. One of the best parts of being home is being able to relax and feel at peace.
Try these shortcuts and let me know if they help. If none of these life hacks appeals to you reach out to me. We can work together virtually one-on-one or in the clutter support group to create some shortcuts that work better with your personal situation. If you live in Atlanta, we can also work in-person.
Diane N. Quintana is a Certified Professional Organizer® ,a Certified Professional Organizer in Chronic Disorganization®, Master Trainer and owner of DNQ Solutions, LLC and co-owner of Release●Repurpose●Reorganize, LLC based in Atlanta, Georgia.