It's time. Can you believe it? Buses here in parts of Georgia are going to start bringing students to and from school again next week. Yes! I said next week. In certain parts of Georgia schools are opening their doors on August 6th. Wow! I'm so excited for the students to go back to school and for the parents, too.
Each school district will have a unique list of supplies they want to students to bring to school. I have put together a list of five awesome products to organize you and your students at home. Continue reading to find out about these products.
Rotating jobs at school and at home
I talk regularly about the importance of involving children in household chores and tasks. In most schools the students are given a job for the week. Some sort of task to make sure the day runs smoothly. This might be anything including marking the weather and date on the class calendar, feeding the class pet, watering the class plants, or cleaning the chalkboard. Some chores or jobs are more desirable than others but because the jobs rotate each child does the desirable as well as the less than desirable jobs. This blog from Jonda Beattie speaks to that point.
Order Out of Chaos Award-Winning Academic Planner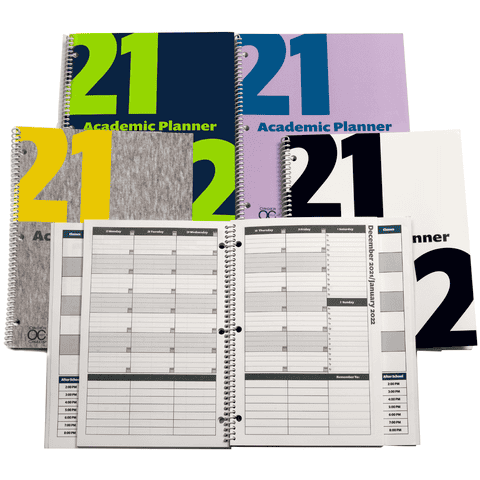 What makes Order Out Of Chaos' Award-Winning Academic Planner—A Tool For Time Management different than any other planner? It's an easy, functional planner that puts the student in control of their time. Students learn how to be more organized and to better manage their time using this planner. They can plan time for schoolwork around after-school activities AND without leaving tasks until the last minute. Homework and studying are easily scheduled during "available" times. Assignments, due dates, and after-school activities can be seen at a glance.
Parents can also learn how to be more organized using this planner. Use it to plan time for volunteering, personal household projects, fitness activities and after-school pick-ups. Leslie Josel, owner of Order Out of Chaos, has lots of terrific advice for parents and products on her website. Check it out here.
3-tier Supply Cart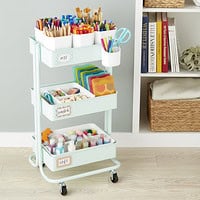 This 3-tiered rolling cart from The Container Store comes in a variety of colors. You can use it as it is shown here for art supplies or for work-related supplies. Roll it to wherever you or your student is working. Because it is compact it can roll into the corner of a room or even into a closet when not in use.
Portable caddy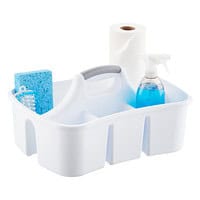 This caddy is available at The Container Store. It's shown with cleaning supplies, but it makes a terrific caddy for back to school supplies, too. It has divided sections which can hold things like markers, crayons, and pencils. There's also enough space for glue, tape, a stapler, and a ruler.
Set it up with the supplies your child needs. The handle makes it easy to move to the kitchen counter, dining table, or wherever your child does their homework. It's also not too large so it is easy to stash away in a cupboard or closet when not in use.
Children's artwork and papers:
If this is your child's first year at school, you will be amazed by how many art projects they bring home. If you are an experienced parent, you know what to expect but do you know how to organize all these projects.
Yes. It's great to display them for a short time. A couple of days is usually long enough. Try to avoid having multiple pieces of art from the same artist on your refrigerator at once.
You can also string some fishing line across the back of your child's room and clip the artwork there as a display. Or install a bulletin board and tack them up there.
But where do you keep these pieces of art when they are no longer being displayed? Lakeshore Learning has a good option for you. It's called My Keepsake Art Portfolio. It will hold lots of artwork. My suggestion is that you hold onto the artwork for the year and at the end of the school year go through the portfolio with your child and select the best few (you set the number – maybe 5?) to keep.
Portable Acrylic Desktop File Holder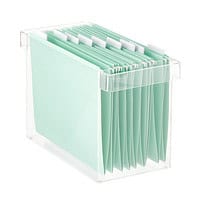 This clear, portable desktop file holder is available at The Container store.
It's great for those files which you need to have at your fingertips. Since it is lightweight and easily portable, it can sit on any flat surface and be stashed in a closet quickly if you don't want it in view.
Use it for the class list, papers to sign and return to school, and any other important information you need to retrieve quickly.
High school students can use it for returned papers they want to keep or notes they want to review to study for a test.
These five awesome products have a variety of uses. Whether you are home schooling, working from home, or your child is going back to school in-person these may come in handy for you. I would love to hear which one or more strikes your fancy.
Diane N. Quintana is a Certified Professional Organizer® ,a Certified Professional Organizer in Chronic Disorganization®, Master Trainer and owner of DNQ Solutions, LLC and co-owner of Release●Repurpose●Reorganize, LLC based in Atlanta, Georgia. Diane offers home organization services in Atlanta.