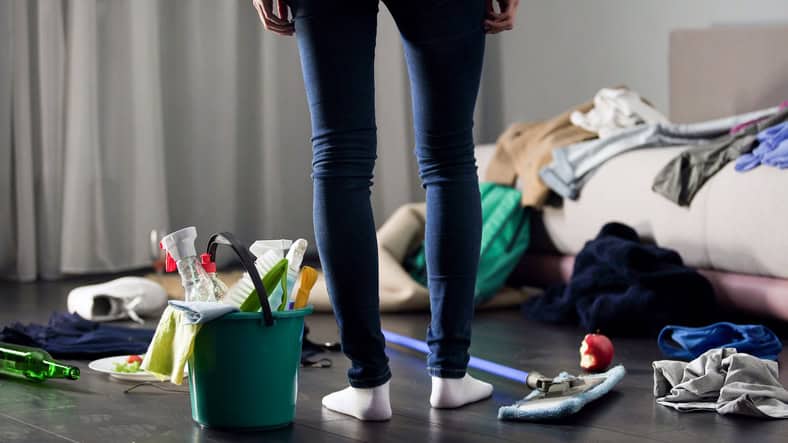 You know you have a problem in your home. It's stressful. Things are piled up here and there. Sometimes you can't find your keys. Boxes are opened, emptied, and left. You want to do something about all of this, and you know you can but somehow you just can't get started. Maybe you think to yourself, if only I had an extra pair of hands. Then it occurs to you that you could call a professional organizer but who do you call and is this enough of a problem to warrant such a call?
Questions such as these stop people in their tracks. Everyone knows that professional organizing is a thing. Afterall, we have all seen or heard about the television shows. There are programs which teach how to make everything picture perfect and then there are programs illustrating what happens when you have massive amounts of clutter. But what if that's not you. What if you just want to be able to find your stuff?
Whenever I tell someone what I do, that I am a professional organizer, the immediate response is: I need you. So why is it that people are sometimes reluctant to call a professional organizer? I have some ideas which I will share with you.
When do you call a professional?
Let's switch topics for a moment and talk about when people decide to call other professionals into their home.
When my boys were very young, we lived in a house in the country. The kitchen sink frequently got clogged up. Every now and then I would get some liquid plumber, pour it down the sink, and the sink would magically unclog. Problem solved. Until the time when the liquid plumber didn't work. I couldn't fix the problem myself and called in a plumber.
We know when there is a problem such that we can't fix ourselves with an appliance, a leak in the roof, a plumbing or an electrical issue we look for a professional.
There are times when the disorganization in the home is such that you can't figure out how to solve it by yourself.
That is a prime opportunity to call a professional organizer.
But what about routine maintenance?
We take our cars to get the oil changed regularly so the motor runs the way it was intended.
I have a maintenance plan with a heating/air conditioning company to maintain my furnace and air conditioning units. Someone from the company comes over before the summer season starts to make sure the air conditioners are running properly. They come over again in the fall to check on the furnace. I am so thankful for them as they have fixed little things before they became big problems.
Professional organizers can also provide routine maintenance and create strategies and solutions for little things, so they don't become big problems. As an objective professional we can help the homeowner streamline their processes.
You know it's time to call a professional organizer when:
You feel overwhelmed. It doesn't matter if the project is big or small if you feel overwhelmed a professional organizer can help you unpack the problem. They will break it down into small manageable parts and either work with you to complete the project or set you up so you can complete it on your own.
Nothing in your home has a place to belong. Work with a professional organizer to assign homes to your belongings that makes sense to you. There is no right way to organize other than the way that works for you and your family.
You used to be organized and wonder why you aren't any more. Organizing at work was easy but now you are working from home plus you have a family and so many things calling for your attention ALL THE TIME. Call a professional organizer in to help you regain control. Let them work with you to create new routines and habits. Then develop a maintenance plan so the organizing solutions are tweaked from time to time and continue to run smoothly.
Where do you look for a trained professional organizer?
I recommend looking for a professional organizer who is a member of one (or both) of these two organizations: The National Association of Productivity and Organizing Specialists (NAPO) and the Institute for Challenging Disorganization® (ICD).
Both organizations have a way to search for an organizer in your area.
You will probably get several names of organizers in your area. The next step is to read the organizers bios. Call a professional organizer and see if you and they think you are a good fit. You want to ask how the organizer works. Do they come in and organize for you or do they organize with you?
Think about what you want. Do you have a specific problem to solve or is on-going disorganization affecting your life in general? What does the organizer specialize in?
Just as you would want to know about any professional you hire; you want to know if the organizer can help you solve the problem you are facing. So, ask questions.
My goal as a professional organizer is to work with my clients to create a functional home and the place where they want to be to relax.
Diane N. Quintana is a Certified Professional Organizer® ,a Certified Professional Organizer in Chronic Disorganization®, Master Trainer and owner of DNQ Solutions, LLC and co-owner of Release●Repurpose●Reorganize, LLC based in Atlanta, Georgia. Follow Diane on Facebook at: https://www.facebook.com/DNQSolutions