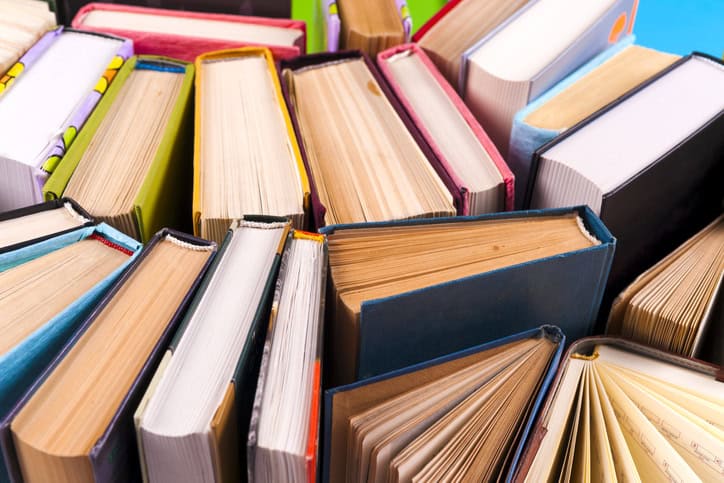 I love books. Do you? I have been in love with books ever since I could sit still long enough to listen to a story. I have collected a wide variety of books and truly enjoying sharing my collection with family and friends. Over the years I have reduced my collection of books so that they fit on the few bookshelves in my home. But what do you do if you love books, have a collection of books, and you don't have a bookshelf? No matter how many books you have, you typically want a place to display them. The most logical place is a bookshelf. How do you organize the books if you don't own a bookshelf?
Here are 5 ideas on how to organize books without a bookshelf
There's no need to go shopping. You just have to get a little creative with your organizing strategy and repurpose empty spaces in your home.
First, look around your home for empty spaces to fill with books.
1. Make a Table with Coffee Table Books
Could you use a small side table next to a couch or a chair? Build one using the large, coffee table picture books. They stack nicely, usually have interesting book jackets, and are heavy enough so they won't topple over. Start by sorting through your collection of books and pull out the large, heavy coffee table books. Organize your coffee table books without a bookshelf by stacking them and making a small side table.
2. Decorate the Windowsill and Mantel
Is your windowsill wide enough to hold books? Sort through your collection of books and find all the books on a topic, by an author, or books of a specific size that will fit on the windowsill. Place the books there and you have created a bookshelf out of your windowsill.
You can do the same thing on your fireplace mantel. Keep in mind that you do not have to display the books with their spine out. You can also make short stacks of books and have trinkets placed on top of the stacks or in between them.
3. Use the Fireplace
If you have a fireplace and are not in the habit of lighting a fire, use the fireplace as a bookshelf. Look at the books in your collection and select some books whose jacket covers you'd like to display in the fireplace. A suggestion is to put the tallest books in the center and create stairsteps down from there with shorter and shorter books.
4. Use a Hutch or a Buffet to Display Books
If your living or dining room furniture includes a china hutch, consider using one or more of the shelves to display your books. Sort your books to find books that will fit in the space. Decide if you want to stack the books inside the cubby and place some china on top of the stack or if you want to dedicate a few cubbies in the hutch to books. Either way, this makes a great alternative bookcase.
If you have a buffet table, use the top to display some of your books. There are great suggestions for organizing book displays in this article.
5. Organize Paperback Books
If you have too many paperbacks to fit in your bookshelf you can take a carton from the grocery store; the kind that a case of cans comes in, and use it to organize your paperbacks. They will fit side by side, spine up, and organized. The carton filled with paperbacks will probably be able to slide right under your bed. You can easily find the one you want by sliding the carton out from under your bed.
As a book lover myself I am always interested in finding creative ways to store and display books. Remember to look up and use vertical space. Looking for open spaces in your home which will benefit from an interesting book jacket or two is also a good idea. There is nothing wrong with having a bookshelf on which to organize your books but if you don't have one, let your creative energy loose and try one or more of these ideas.
Let me know if any of these ideas helped you organize your books without a bookshelf.
Diane N. Quintana is a Certified Professional Organizer® owner of DNQ Solutions, LLC and co-owner of Release, Repurpose, Reorganize in Atlanta, Georgia. Diane specializes in residential and home-office organizing and working with people affected by ADD, hoarding challenges, and chronic disorganization. Please contact Diane for a free 15-minute phone consultation.