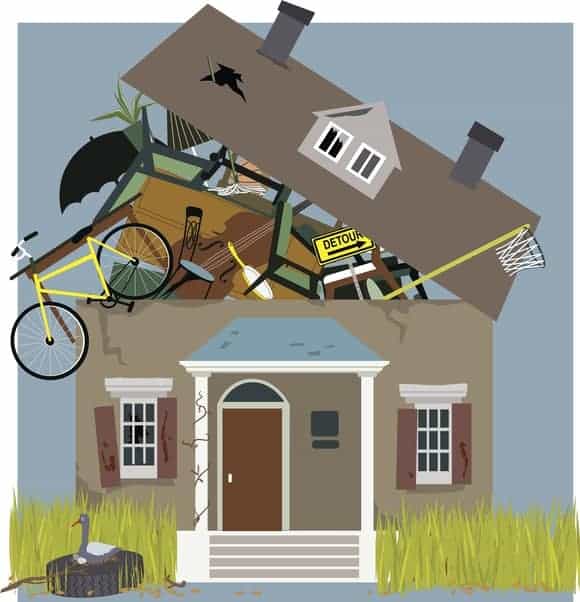 Over the next few months, we will be interviewing professionals who work with the hoarding population.  We are asking them to share their insight on people who hoard and people who think they have the hoarding disorder.
We recently interviewed Amy Bowles.  Amy is the president of Tucson Professional Organizers, in Tucson, Arizona. She is also a member of the American Psychological Association, the Institute for Challenging Disorganization (ICD), and the National Association of Productivity and Organizing Professionals (NAPO).
Her company's name, Been There Done That Organizing, LLC, reflects the fact that Amy herself has struggled with hoarding behaviors. She has personally been where her clients are at: overwhelmed with clutter and too much stuff. Helping people discover a less debilitating and more joyful life is her passion.
Questions & Responses
What training have you taken?
I have a bachelor's degree in psychology and have nearly completed a master's degree in rehabilitation and mental health counseling. I have taken classes through NAPO and ICD and  I have attended 6 NAPO annual conferences and 2 ICD annual conferences. I worked with my own organizer, ICD subscriber Elaine Kraus owner of Whole Life Organizing in Charlottesville, Virginia, for 2 years when I began de-hoarding my own house. I apprenticed for nearly a year with a local therapist who specialized in working with hoarding clients. She ran a support group that I adapted and made into my own when she stepped down as facilitator.  I am a member of the Arizona Hoarding Task Force and I participated in an episode of the Hoarder's TV show in 2016 as a support organizer. I have also watched every single episode of Hoarders at least 3 times (does that count?) and have learned a lot from the show about what is helpful and what is not when dealing with hoarding behaviors.
What percentage of your clients do you suspect have hoarding tendencies?
I have determined that 53% of my current clients exhibit hoarding behaviors and/or engage in compulsive acquiring. Of those, 95% have diagnosed, co-occurring mental health disorders and/or physically disabling conditions. I also work with a  large number of clients whose primary diagnosis is Attention Deficit Hyperactivity Disorder (ADHD). Both groups experience chronic disorganization as a symptom of their diagnoses.
As you start working, are there times when you discover this is something other than hoarding?
Not usually. During the phone intake and at the in-person consultation I "interrogate" my prospective clients mercilessly (*laughs*). I know just about everything before we start working except maybe their social security number – but I'll probably find that out too when we get to the paperwork! In seriousness, I ask a lot of specific medical questions right at the beginning – like are there thyroid issues or diagnoses of sleep apnea or diabetes – to see if there is something that medically can be addressed first. I do not want to attribute thoughts and behaviors to a mental health disorder like hoarding when those thoughts and behaviors may be (at least partially) a result of a physiological problem. I ask all about their life–history (the good, the bad, and the ugly), their mental health diagnoses, and any challenging or traumatic experiences they have lived through. Ultimately, my clients need more coaching than organizing. Some may argue that these types of questions are outside the "lane" of a professional organizer, but I submit that I am much better equipped to provide effective coaching, guidance, encouragement, and organizing help if I learn as much as possible about my clients strengths and weaknesses from the outset.
What tool do you use to determine the amount of clutter?
I prefer the CIRS (Clutter Image Rating Scale), developed by Dr. Randy Frost and the International  OCD Foundation . If there is evidence of animal hoarding or squalor, then I may use Christiana Bratiotis' HOMES assessment, the Uniform Inspection Checklist created by Marnie Matthews, or the ClutterHoarding Scale® developed by ICD. Using these scales can help me provide other helpers, like code enforcement, Adult Protective Services, Child Protective Services, pest control or landlords, with a better idea of the extent of the problem.
How do you determine if the working area is safe for you and your client?
I start by asking to meet all family members, to make sure everyone is on board with the process. I have also been known to Google particularly troubled clients, and to sometimes perform background checks on certain clients. I also find out in advance if clients have pets, and at the in-person consultation, I determine if those pets need to be crated or put outside while we are working. In addition, I ask first by phone, and then in person about pest infestations, bedbugs, mold, mildew, leaks, rotting food, the use of candles or other fragrances, and the use of space-heaters. Once we begin working together, I also request that clients move objects that are located near HVAC systems and encourage them to keep it that way.
If necessary, to keep myself safe while working, I will wear an N95 mask, or a respirator, if needed. Of course, I have Tyvek suits available, goggles, and a variety of gloves. I also have waterproof and regular boots, if needed. At most clients' homes I simply wear a hat and jeans and either a short or long-sleeved t-shirt and sneakers..
Do you usually work alone or with a team? If you work with a team, who do you want on your team?
I find it very difficult to work with a team, though I do enjoy it when the opportunity arises. I have involved a team for some short-term bigger jobs, but I find my strength is in the one-on-one work.  And I have found that most clients simply aren't ready for the team approach until we have worked one-on-one for 18-24 months. I would love to clone myself… because this is exhausting work. I would love to find someone like me, who has overcome hoarding and can help others change their minds in order to change their lives.
Would you be willing to share something you learned – maybe the hard way from a client?
I have learned that 4 hours of yelling at me is my limit. (Thankfully, such experiences are few and far between and the overwhelming majority of my clients are no different than me: they are creative, interesting, funny, thoughtful, helpful humans whose lives have taken a massive wrong turn.) I have a fairly high tolerance for chaos, and my boundaries tend to be somewhat flexible. I am non-judgmental because I know, first-hand, that most of my clients need love, affection, compassion, empathy, kindness, and encouragement more than anything else that I could provide. I have learned that the course corrections most clients need are small but there are a LOT of them needed for clients to effectively turn their lives around, and  I am in there with them for the long haul.
I honestly believe that most people, most of the time, are doing the best they can with the skills they have. But still… four hours of yelling is my limit.
I guess I have learned my most valuable lesson from myself, and it is this: My unhelpful behaviors and actions do not determine my value, just as my helpful behaviors and actions also do not. My value remains unchanged, no matter what I do. And I am worthy of love, affection, forgiveness, and everything good in the world. I do not have to earn it. And this is true for everyone. I want to pass this understanding on to my clients, and if they gain nothing else from me, it is this truth that is the catalyst for significant, positive change. I think it was Carl Rogers who said "the curious paradox is that when I accept myself just as I am, then I can change."
Generally speaking, hoarding is primarily a collection of unhelpful thinking and behaviors, and good news: once we figure out how to accept ourselves, both thoughts and behaviors can be changed!
What advice would you give someone who is considering going into the field?
Make sure that you have figured out what empathy really is. And maybe… give up the idea of organizing (*laughs*). You cannot focus on the "stuff," because it's not about the stuff! Hoarding is having an emotional problem letting go of stuff – it's not about about acquiring too much stuff, but about letting go of it.
Ultimately, clients need unconditional acceptance, consistent, unwavering, optimistic hope (that they will regularly borrow from you), complete faith in their ability to change their thinking, and an arsenal of self-help tools that you can share to help them develop their self-efficacy and self-esteem as they venture into effective decision making. You want your clients to become independent and to have faith in themselves that they are capable of making good decisions. They have made so many unhelpful decisions (on a regular basis) that this trust in themselves (and in others) is hard to come by. Stand by their side, earn their trust, and then teach your clients to stand on their own, and trust themselves.
Do you have a shareable list of resources for people challenged by hoarding or their families?
I have a library of books I regularly receive from one client and share with the next. I also always keep my library stocked with the books: Buried in Treasures, Stuff and the Meaning of Things, Digging Out, Boundaries (Cloud & Townsend), and Women Who Love Too Much. I happily refer clients to my Facebook page: https://www.facebook.com/amybowlesbtdto/, and I invite clients to join some of the Facebook support groups I participate with – Hoarding Cluttering Support Group and Women with ADD. I routinely refer clients to the local Buried in Treasures workshop in Tucson, which is currently held twice a year for roughly 16 weeks. My own local support group, Excess Denied, is private, but those who are interested may contact me at excessdeniedtucson@gmail.com. I also offer virtual and in-person coaching and organizing, as well as public speaking on the issue of hoarding behavior. I can be reached at amy@BTDTOrganizing.com.
Thank you very much for this fabulous time spent together learning more about the work you do.
If you are or if you know a professional who works with people with hoarding tendencies, please feel free to get in touch with us. We'd love the opportunity to talk with you, too!
Be sure to check back to see who we interview next!
Diane N. Quintana is a Certified Professional Organizer, Certified Professional Organizer in Chronic Disorganization, ICD Master Trainer and owner of DNQ Solutions, LLC based in Atlanta, Georgia. Diane teaches busy people how to become organized and provides them with strategies and solutions for maintaining order in their lives. She specializes in residential and home-office organizing and in working with people challenged by ADD, Hoarding, and Chronic Disorganization.
Jonda S. Beattie is a Professional Organizer and owner of Time Space Organization based in the Metro-Atlanta area. As presenter, author of three books as well as a retired special education teacher, she uses her listening skills, problem solving skills, knowledge of different learning techniques, ADHD specialty, and paper management skills to help clients tackle the toughest organizational issues. Jonda does hands on organizing, virtual organizing, and moderates a Zone Plan Teleclass for those who prefer to work on their own with organizational coaching.