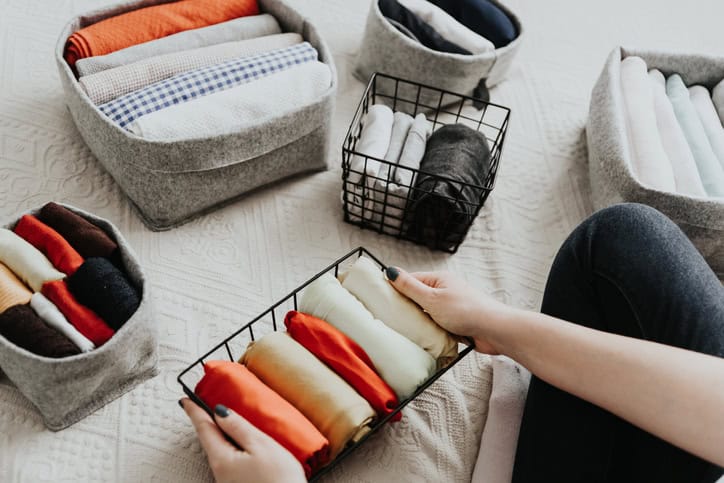 Are your clothes randomly dropped on the bedroom floor where you were standing when you took them off? Or are they clean but still in the laundry basket? Maybe they are strewn across a chair in the corner of your room or on the other half of your bed? There are several reasons this may happen to you. One reason is that you don't have strategies for putting your clothes away. The other reason may be that you don't have a dresser in which to put said clothes. Here are 3 strategies for organizing your clothes without a dresser and why it's a good idea.
Picking your clothes up off the floor and putting them where they belong does a couple of things for you.
It makes your clothes last longer which saves you money.
It reduces the amount of laundry you have to do which saves you time.
If you leave your clothes laying on the floor or the bed your dog or cat may use them to snuggle in when you're out. Maybe your dog or cat will decide to chew a hole in your socks. These clothes won't be fit to be worn until laundered now that your pet has played with them.
Create the habit of either hanging clothes back in the closet or putting them away if they are clean enough to wear again. Putting them in a laundry basket out of reach of the dog or cat if they need washing is another habit to create.
But what do you if you only have a closet and no dresser? Where do you put the clothes you don't want to hang? This is not a problem.
Here are 3 strategies for organizing your clothes without a dresser:
1. Install shelves in your closet
This is a good option if you have a fairly big walk-in closet. You can buy a wall shelving system like Elfa from The Container Store or ClosetMaid which is available to purchase from many stores and online. These systems attach to the wall.
I am partial to the Elfa system because I think it is much more versatile, but it is also more expensive. The Elfa system is easy to customize, and you only buy the parts you need. The depth of the shelves depends on the space available. This system also has baskets of different depths which are great for holding things like socks and underwear. It's not quite as simple to customize the ClosetMaid system. But it can be done with lots and lots of patience.
2. Use cubes in your closet
Stacking cubes are another great option. If your closet is big enough you can stack cubes inside. Otherwise pick a wall in your bedroom on which to stack some cubes. Cubes are great for sweaters, t-shirts (if you like to store them stacked in a pile),athleisure wear, and other bulky clothing. You can get bins to fit inside the cubes to hold socks, PJs, and under garments.
IKEA has an all-in-one piece of furniture that looks like stacked cubes. You can choose to install shallow drawers in this piece of furniture or leave the cubes as is.
The Container Store also has stacking cubes. They come in a variety of colors. You can stack them 2 or 3 cubes high and then leave them empty or get bins to fit inside if you want to hide the clothes from view.
3. Add hooks
Hooks are great for clothes you intend to wear again. They are easy to install inside your closet, on the back of your bedroom door, on the back of your bathroom door, or really anywhere you have space.
You can also use hooks for things like belts, scarves, and necklaces. Lots of stores carry interesting hook sets and individual hooks. They don't have to be placed in a row. Install them where they will do the most good and help you keep your clothes off the floor.
Let's not forget about the shelf above the hanging rod in the closet. This is another great place to store clothes.
If your bed is high enough off the ground, you can also put storage containers under your bed for out of season clothes or clothes you wear infrequently.
In conclusion:
There are lots of strategies for organizing your clothes without a dresser. Find the one that works best for you. Create new habits of picking up your clothes and putting them in the places you have designated. This will save you time and money. It will also help you to keep your bedroom more organized.
Diane N. Quintana is a Certified Professional Organizer® ,a Certified Professional Organizer in Chronic Disorganization®, Master Trainer and owner of DNQ Solutions, LLC and co-owner of Release●Repurpose●Reorganize, LLC based in Atlanta, Georgia. Diane offers home organization services in Atlanta. Sign up for Diane's Monthly Newsletter and get short weekly tips every Monday.