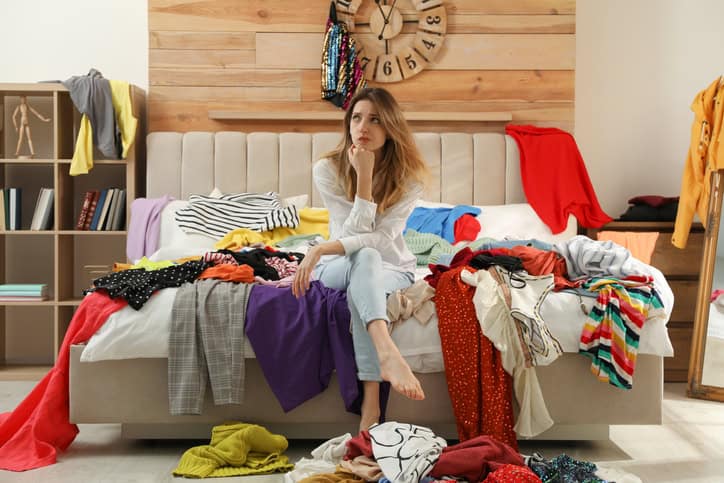 Keeping clothes tidy is something that can impact how your bedroom looks. When clothes are piled all over the bedroom it looks disorganized and cluttered. Some people don't have a closet and others don't have a dresser to use. Today I'm talking about how to organize clothes without a dresser.
There are many creative ways to organize clothes without a dresser. Some people even prefer having no dresser because it's easier to see the clothes that are available to wear. It is also easier to put clothes away when you don't have to open and close a dresser drawer. Here are my tips for organizing your clothes when you don't have a dresser.
How to organize your clothes without a dresser
Large Walk-in Closet
If you have a large walk-in closet, you can use some of the hanging space for a couple of sets of free-standing drawers. The Container Store has a variety of stackable drawers. Use them to hold undergarments, socks, and workout clothes.
Use shelf dividers on the shelves above the hanging rod to create sections for leggings, T-shirts, sweaters, and other bulky clothes. Or maybe get set of soft hanging sections, like this.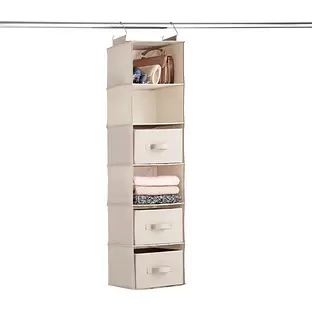 Get some cascading hangers to hold things like jeans.
Invest in slim hangers and hang all your tops along with pants, skirts, and dresses.
Small Closet
If your closet has barely enough room for your dresses and suits use a cubby system in your bedroom to hold your clothes.
Create a cubby system by purchasing a set of utility shelves or a bookshelf. Get some baskets or tubs that will fit on the shelves. Remember to measure the depth of the shelves before you go out any buy any bins or baskets in which to organize your clothes.
Ikea has a variety of shelving options from which to select.
This one will hold baskets which you can use for undergarments, socks, and workout clothes. Other clothes like jeans, t-shirts, sweaters, and other bulky clothes can either be folded and just put on the shelf or put in baskets also.
Even if the closet is small, there is probably a shelf above the clothes rod. Use it to hold baskets of clothes you wear infrequently.
How to organize your clothes without a dresser and a closet
If you have neither a dresser nor a closet you still have lots of options at your disposal. The least expensive option is to buy a clothing rack and set it up for things you must hang. Then get a utility shelving unit and some baskets or tubs as described above.
Ikea has a wide range of wardrobes from which to select one that will fit your space. Chose one that has some hanging space and some shelves. You can also search Wayfair and Overstock.com for armoires and wardrobes to create storage for your clothes,
Do you have a whole wall to use? The Container Store can create a custom closet for you with shelves, drawers, and hanging space. You can decide, based on your budget if you want to use the Elfa system or have a system with some open shelving and some closet doors. If you live in Atlanta, check out Closets by Design.
Another option is to install some towel bars to use for clothes you want to hang on a hanger as well as some decorative hooks. Then get some stacking wooden boxes or crates. Turn the wooden boxes or crates on their side and stack them. You can have as many as you need to store your clothes. Cover the boxes or crates with a sheet, if you want to hide the contents from view.
It's not impossible to organize your clothes without a dresser. Think outside the box. Measure the space available and decide if you want to see the clothes or not. Then go shopping.
If you are struggling to organize your clothes consider reaching out to a professional organizer, like me, for some non-judgmental assistance.
Diane N. Quintana is a Certified Professional Organizer® ,a Certified Professional Organizer in Chronic Disorganization®, Master Trainer and owner of DNQ Solutions, LLC and co-owner of Release●Repurpose●Reorganize, LLC based in Atlanta, Georgia.