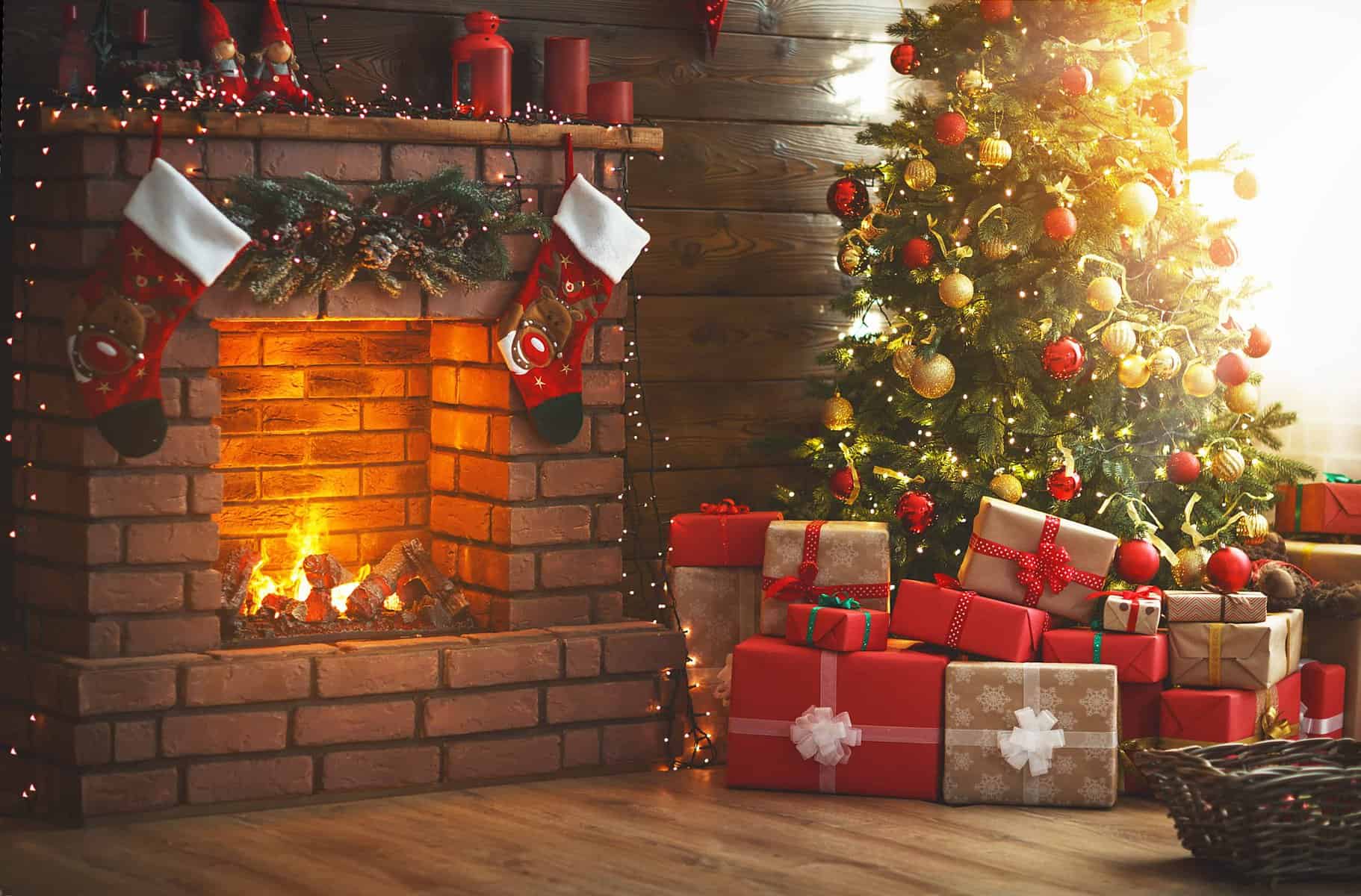 Have you started your holiday shopping? No? With the holidays looming (as of the writing of this post there are 98 days until Christmas) it's a good idea to begin now. Some people are harder to buy for than others. I did a little searching online and came up with these 6 gifts that the organized person in your life may truly appreciate. I bet you will like one or more of them.
Here are 6 gift ideas for the organized person in your life that they will use and truly appreciate.
1. Keep your car organized
There's little worse than having filled grocery bags and knowing that they are going to tip over in the trunk of your car or SUV. This trunk organizer will keep the grocery bags upright. The bread won't get squash and the eggs won't get broken.
Another great feature of this trunk organizer is that it folds flat when not in use. It is also budget friendly as it retails at Office Depot for just $21.19.
Of course, there are other uses for this great trunk organizer. Transporting plants, baked goods to school, school projects, and snacks for the team. I'm sure you can think of people who will appreciate a gift like this.
Trunk Organizer
Honey-Can-Do SFT-01166 Folding Trunk Organizer $21.19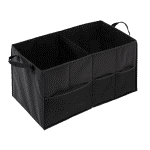 2. Tire gauge and inflator
Have you ever been ready to go somewhere and discovered that one or more of your tires needs to be inflated?
That happens to me when the weather changes. You know when it all of a sudden becomes chilly in the morning.
I have a little machine similar to this one. This one is better because it has a digital read out of the tire pressure and you can set it to inflate up to a certain psi. It comes in so handy, not just for car tires but also for bike tires and children's inflatable toys. In my case, grandchildren's inflatable toys.
Tire gauge and inflator $27.99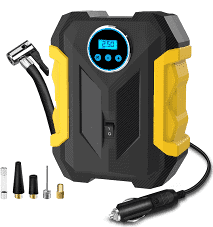 3. Save time and money
This little deck of cards can save you time and money. Yes! It really can. Are you wondering how? Good, because I'm going to tell you.
It will save you money by helping you maintain the spaces in your home. When the cleaning people arrive, they will be able to do their job more efficiently because there will be less stuff for them to move before they get down to their job of cleaning the room.
It will save you time because you will spend only 10 minutes tidying and organizing one small space at a time giving you more time to spend doing something fun.
Give this deck of cards to the organized person in your life to help them maintain their home more efficiently.
Organize Your Home 10 Minutes at a Time deck of cards $19.99
4. Portable File Tote
If your work is now split between time in your home office and time in the official work office a great gift may be a lovely portable file tote.
This tote will keep the documents you need to have at your fingertips perfectly organized, easy to transport, and ready for you to use when you get where you are going.
There is also a place for your phone and a pen. And it comes in a nice range of colors.
This tote is available at Levenger for $69.00.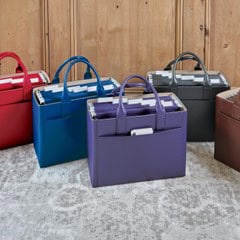 5. A new kind of journal
This next gift is for the person who makes lots of lists and has small scraps of paper in different places around the house.
It is a journal called: My List Simplified $25.00
This journal has places for the organized person to capture all these lists, plans, and ideas in one place.
It has a page called Check Your Calendar dedicated to capturing and corralling all the various lists that people keep on scraps of paper and a page specifically for notes related to the lists.
This Calendar page is on the left-hand side and the Notes page is on the right-hand side.
It is a spiral bound journal that will lay flat when open.
The Calendar page has a place to add 3 quick wins and has 6 other sections: errands, appointments, household tasks, calls to make, things I am thinking about, and future plans/projects.
Use this page every day, set it up for the week, or use it sporadically.
What makes this planner different? There are no dates in this journal. You determine the date and day for each Calendar page. It is a "forever journal".
6. Handbag Holder
I don't know about you, but I generally put my handbag on the front passenger seat when I am by myself or on the floor behind the driver if I have a passenger in my car. It can be a pain to try and get something (like my sunglasses) out of my handbag when it is sitting on the floor behind me.
This holder provides a place for your purse or handbag between the seats. I thought it was a brilliant idea.
It can also hold a box of tissues and other assorted necessary items.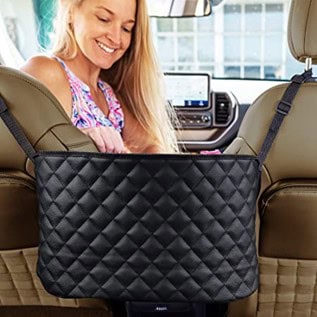 Honestly, I sourced gifts that I will be purchasing for all the organized people in my family, so I hope they are not reading this post. I always look for gifts that I am positive will not become clutter and will be used. All the gifts in this post fit that metric. I hope one or more of them strike your fancy and that this list will help you with your holiday shopping.
Diane N. Quintana is a Certified Professional Organizer® ,a Certified Professional Organizer in Chronic Disorganization®, Master Trainer and owner of DNQ Solutions, LLC and co-owner of Release●Repurpose●Reorganize, LLC based in Atlanta, Georgia.