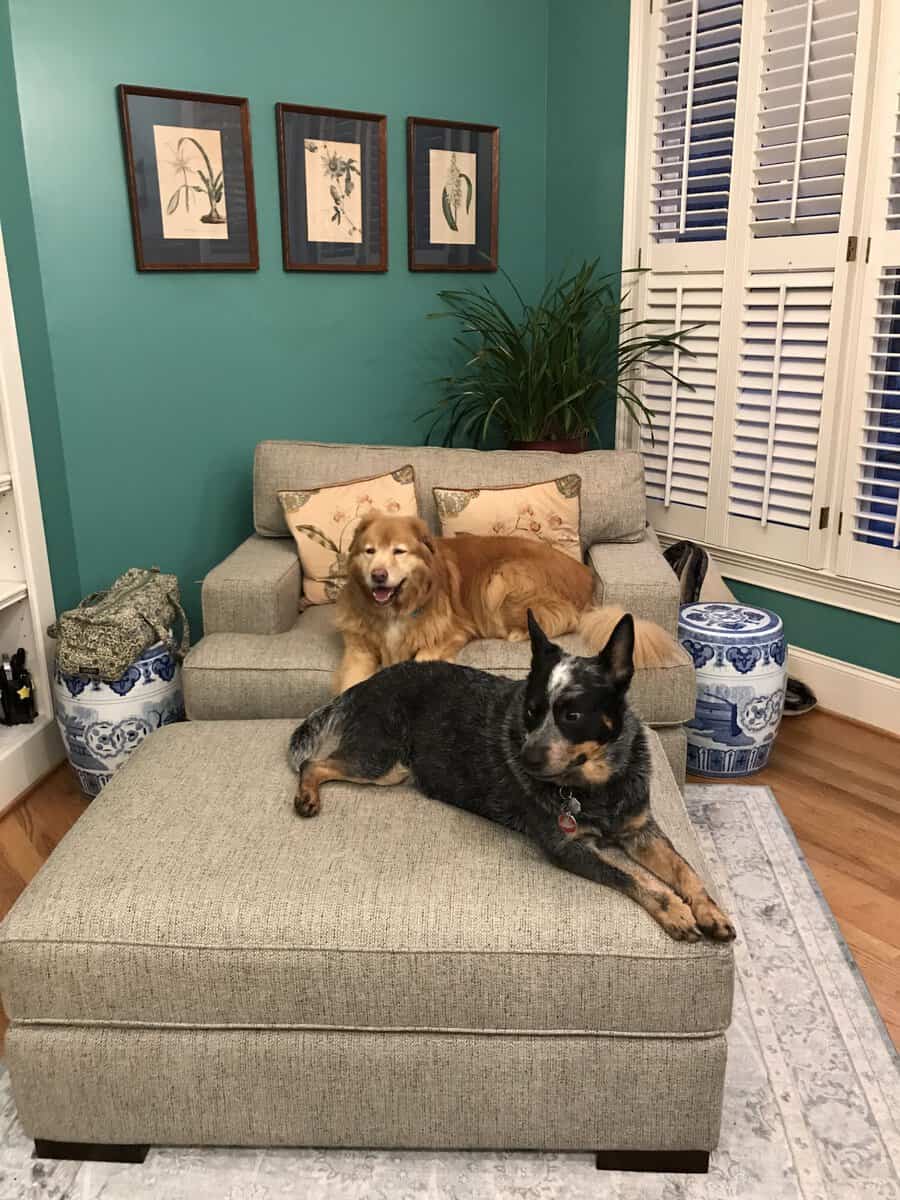 A house becomes a home when someone infuses it with their personality. When someone walks into my home, they know right away that my decorating taste tends toward the traditional. If they look a little more closely, they will notice that I have a sense of humor because I mix the traditional with accents of things that make me laugh. You may notice that I wrote the word "accents" above. Too much of anything becomes clutter.
I love to needlepoint and have many needlepoint pillows in my home. If they were all in the same room on one piece of furniture, they would be clutter. Instead, I have scattered them throughout my house. I keep the current needlepoint project on a shelf near my favorite chair in the kitchen so I can work on it when I'm not actively cooking.
Here are some ideas to help you incorporate your personality into the organization of your home:
Small displays
To make the house in which you live your home you want to decorate it in a way that reflects your personality and organize it in a way that makes sense to you. Each of us has a unique personality. We have our hobbies and the things that make us smile. It's the way you bring these things together in small displays around your house that make it your home.
My brother used to build and paint birdhouses as a hobby. Before he and his wife renovated their kitchen, he had his favorite birdhouses on display above his kitchen cabinets. He also collects old pewter dishes and beer steins. He built a few shelves for his dining room so that he could display the pewter there. My brother is a builder so building things to hold collections displays part of his personality.
Create a vision board
The impulse we all have when we first move into a house is to put our mark on it. Whether we paint the walls a different color, hang pictures, or decide to knock down a wall to open up the space we want to do something.
Reign in your enthusiasm if you can and first create a vision board. Get some magazines and cut out pictures that resonate with you. Keep in mind that these pictures have been staged, even if someone lives in the home, the photograph has been artfully staged first.
Think about yourself and other people who live in the home with you. What colors do you like? Do you have a collection of photographs you want to display? Do you have a craft that reflects what you do in business or who you are in your private life?
Organizing and decorating
You may be wondering how all this talk about paint colors and displays relates to organizing. Wonder no more.
Your personal style dictates how you want to be able to find your belongings. Do you like to have everything hidden away, out of sight? Then, you will probably only want to carefully select a few things to put out on display.
If seeing your things reminds you of what you have, you will probably want to creatively hang things from the walls or ceiling. For instance, you can hang a potholder near the stove, instead of keeping it in a drawer so you can grab it quickly when you have to move something hot. You may want to take the kitchen cupboard doors off and have open shelving.
Professional Organizers
If you are confused and you feel overwhelmed by the amount of stuff in your home. Reach out to a professional organizer in your neighborhood. Here are two great resources which will help you find a professional organizer near you: The Institute for Challenging Disorganization (ICD) and the National Association for Productivity and Organizing Professionals (NAPO).
Professional organizers help guide you to organize your home and display your collections in the way that makes sense to you. They take your organizing style into consideration and then give you lots of choices. Experienced professional organizers have created organizing solutions to accommodate many different personality styles and organizing preferences.
Decorate for you
Decorate your home according to your organizing style and your personality. Display that which makes you smile. The whole point of having a home is to be in a place where you want to spend your time.
Since we are spending almost all of our time in our homes these days, let your personality shine through the decorations you display. If you want some assistance figuring out how to do this feel free to contact me or to join the clutter support group I run with Jonda Beattie. Click here for more blogs on this topic.
Diane N. Quintana is a Certified Professional Organizer® ,a Certified Professional Organizer in Chronic Disorganization®, Master Trainer and owner of DNQ Solutions, LLC and co-owner of Release●Repurpose●Reorganize, LLC based in Atlanta, Georgia. She specializes in residential and home-office organizing and in working with people affected by ADD, Hoarding, and chronic disorganization. Diane and Jonda Beattie are the award-winning authors of: Filled Up and Overflowing.