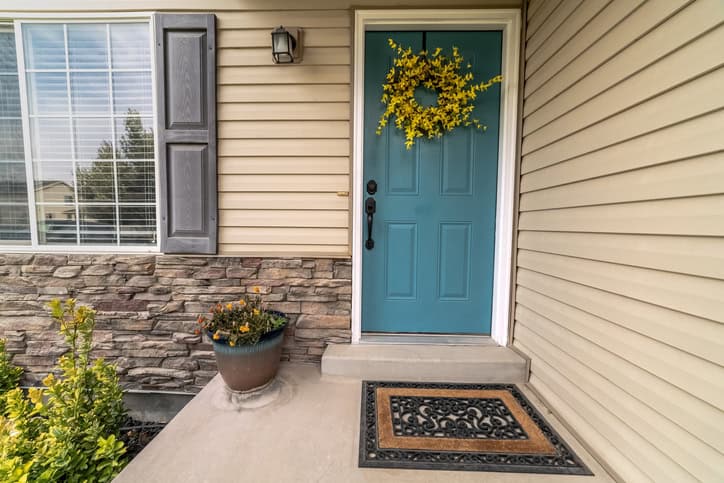 Valentine's Day is February 14th. Are you planning to celebrate with a special someone? Get your home ready by de-cluttering and make a great impression as soon as their foot crosses the threshold of your entrance.
Think about the entrance to your home. What does the front door say to someone coming over to your house? Do you want it to make someone feel as if they should turn around? Is there space for them to step inside? Does it make someone feel welcome? You may not know what other people see when they first approach your front door and then step inside your home because you see it so often. When we see things all the time, we almost become blind to them.
Step outside, close the door, face away from your door, and shut your eyes. Take a couple of deep breaths. Now, open your eyes and face your door. Is it covered with dust and/or cobwebs? Do you remember the last time you either dusted the outside of your door or swept cobwebs away? Next step inside. What is the impression your entry gives you? Does it make you feel welcome? One of the best ways to create a good impression and a welcoming entry to your home is to keep it clutter-free.
Have a place for everything
Think about the things you carry with you all the time. Do you have a place to put them down while you take off your coat? Generally speaking, the coat closet is not too fat from the front door. If you don't have a coat closet, get a free-standing coat rack. But what can you do with the rest of your stuff?
If you have a tote bag, handbag, or backpack that you regularly carry around have a spot to put it down. This could be a small table or a bench, if you have room.
A bench is handy to have near the door because then you have a place to sit down if you need to take off or put-on shoes or boots.
Have a tray under the bench to corral shoes and boots. It's also a good idea to have a tray to hold things that are wet – like a wet umbrella – in addition to wet shoes and boots.
Use vertical storage
If you have children, put some hooks near the front door on which to hang their school backpacks. When the children have a place to put their bags, they don't get tossed on the floor just inside the door.
Use the vertical space you have to keep things up off the floor and give a clean and clear impression of the entry.
You can hang your tote bag, backpack or handbag on a hook by the front door, also but I don't recommend leaving it there. Leaving the bag in which you probably keep your driver's license, credit cards, and money near the front door is an invitation for someone to take it. Hang it on a hook while you take off your coat and then move it to it's regular landing spot. I keep my bag hooked on the back of my office chair because I often need credit card information when I'm at my desk.
The same is true for your keys. If you like to keep them on a hook, put the hook on the inside of a closet door so they are not out in the open.
What does your entry say?
I know the entry to your home can't talk but if it could what would it say about you? Sometimes, people clutter up the entry to their home because they are busy and they haven't taken the time to designate places for things, like shoes, boots, bags and umbrellas.
If you want someone's first impression when they walk through your door to be this is a home in which I feel welcome, then invest a little time and create places for things that naturally get dropped by the door.
Clear your entry so that when that special someone walks through the door on Valentine's Day their first impression will be a good one.
If clearing your entry is on your radar of projects to complete, consider joining the Clear Space for You virtual clutter support group I run with Jonda Beattie. Click here to read more blogs like this one.
Diane N. Quintana is a Certified Professional Organizer® ,a Certified Professional Organizer in Chronic Disorganization®, Master Trainer and owner of DNQ Solutions, LLC and co-owner of Release●Repurpose●Reorganize, LLC based in Atlanta, Georgia. She specializes in residential and home-office organizing and in working with people affected by ADD, Hoarding, and chronic disorganization. Diane has recently co-authored a book with Jonda Beattie titled: Filled Up and Overflowing.