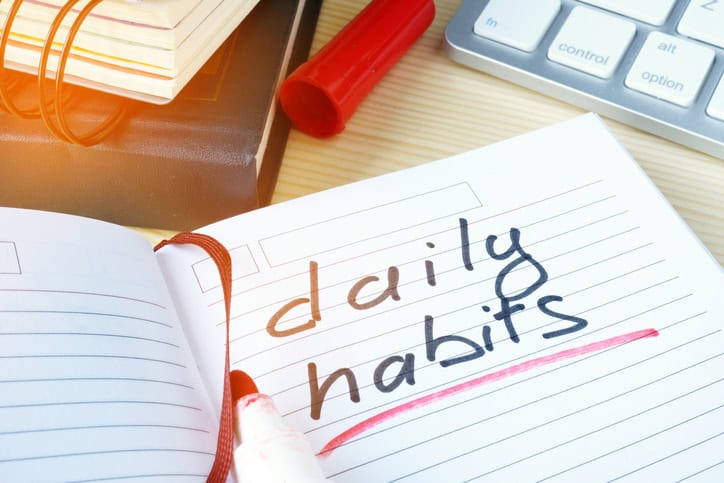 Often at the beginning of the year people talk about breaking bad habits and creating new routines. Just as often these efforts fail because our habits; good and bad, are ingrained in us. It is very hard to change an established habit. We have set routines we follow whether we realize it or not. Most of the time we don't recognize that we are following a routine we just automatically follow certain steps to complete a task. Today I want to talk about the ways in which habits help to ground us when everything else in our life is up in the air.
What is a habit?
A habit, according to James Clear author of Atomic Habits, "Habits are the small decisions you make and actions you perform every day."
3 Habits which help to ground me
One of my habits is to make my bed every day after I have my breakfast. It doesn't matter where I am, this is my habit. I do it automatically – even when I am staying in a hotel. This routine tells me my day is starting. Making my bed is something I have been doing since I was a very little girl.
Once I've had breakfast and made my bed it's time to go for a walk. It's also my habit to get up very early. I love the early morning hours, just as dawn in breaking. The colors in the sky are just gorgeous. The air, even in summer, is fresh. I use this time to think about the day ahead. My two dogs, Miles and Josie, have different walking patterns. Josie is a very fast walker. This is when I get my real exercise. Josie and I cover about 2 miles in less than 20 minutes. Miles walks slowly. He likes to sniff every blade of grass and takes his time covering about half a mile in 20 minutes.
Another habit is to plan what I am going to do the next day in the evening. I like to review the things that I have accomplished and then think about what I will do the next day to move my projects forward. It helps me to maintain progress. Even if all I do is complete one very small task, like making a necessary phone call, I feel satisfied because I have done something. This habit of planning for the next day also takes all the details off my mind which lets me relax at night and fall right to sleep.
Habits help to ground us
When everything around us is out of whack our habits help to ground us. These small daily decisions help us to stay on track and to navigate around and through whatever is happening. Let me give you an example.
I have moved house twice in the last ten days and I am about to move again. The closing on my townhouse had to be pushed past the date when my lease on the furnished apartment was expiring and I was unable to extend it. So, I moved everything out and into a friend's house.
I arranged for a one-month lease of a small furnished apartment in the same building as my other rental. This apartment became available after four days at my friend's house.
Later this week I will close on the townhouse and move in. No more temporary furnished apartments!
Moving is stressful
Moving is one of the most stressful things we do in life. It's one of those life-events which turns everything upside down.
When you move in there is the furniture to arrange, boxes to unpack, and belongings to put away. We must remember where things are kept, and each new home has a different lay-out. I found myself forgetting which way to turn to find the bathroom.  
My habits help to ground me each time I move. In the morning, I get up in each new bedroom and make my bed. Then my dogs and I go on our walk around the neighborhood. I know that at night I will make my plan for tomorrow. My list of appointments, errands, calls, emails and steps to take to move projects forward provides structure and stability to my days.
Everything else around me can be topsy turvy but I am secure when I follow my tried-and-true habits.
Do you have certain habits which ground you? Would you like to cultivate habits on which you can rely in times of stress?
The Clear Space for You virtual clutter support group run by Jonda Beattie and me is a place where you will receive guidance, support, and accountability as you work to create these habits or on any other project of your choosing. Join us.
Diane N. Quintana is a Certified Professional Organizer® ,a Certified Professional Organizer in Chronic Disorganization®, Master Trainer and owner of DNQ Solutions, LLC and co-owner of Release●Repurpose●Reorganize, LLC based in Atlanta, Georgia.