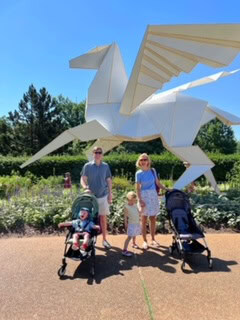 Summer is here and with it comes a sense of freedom and desire to go out visiting friends and family. The news is full of information about the best days to book airline tickets, the price of gasoline, and the fact that as many people are traveling as were pre-pandemic. As a professional organizer in Atlanta, I am often teaching how to organize your home so that it's ready for guests. Does the thought of having house guests make you anxious? When you take the time to organize and prepare in advance you can avoid having anxiety over house guests. An added benefit is that you also get to enjoy the time spent with guests instead of scurrying around organizing.
My son and his family recently visited me. It was a wonderful fun-filled visit. We went to the Atlanta Botanical Garden, the Farmer's Market in Sandy Springs, and spent lots of time enjoying each other's company. I admit all this was possible because I spent time organizing my home in advance of their visit.
Tips to prepare and organize your home to avoid having anxiety over house guests
Organize the sleeping plan
My son, his wife, and their 18-month-old toddler slept in the bonus room at the top of my house. There's no door on that room. The stairs are not carpeted and are a little steep, so I borrowed a gate to block off the stairs.
The room has a large sofa bed and a full bathroom, and my son told me that he was bringing a portable mini crib for their toddler.
Their 4-year-old daughter slept in the guest room.
If the family coming to visit you includes young children think about what you need to do to keep them safe in your home.
Make the beds and organize the bathrooms
Before everyone arrives put sheets on the beds and towels in the bathroom.
Check to see there is extra toilet paper under the vanity and soap both by the sink and in the shower.
Look in the closet to see if there are extra hangers in case your guest wants to hang up some clothes.
If there is a chest of drawers in the room, see if there is space for a guest to unpack clothes.
I also like to put little bouquets of flowers in the bedrooms.
Because there was a toddler coming to my house, I looked around to see what I wanted to put out of reach in each bedroom. Then I put those things away. Avoid having anxiety over house guests, particularly little ones by removing things you don't want them to break by accident.
Organize the activities
When people come to visit me, I like to leave the time relatively unplanned. Having said that, I always have ideas of things to do.
As it happened, my son wanted to walk along the Beltline in Atlanta. He told me that in advance. We planned an afternoon to do that with the children.
I wanted to go to the Atlanta Botanical Garden because there was a new exhibit which I thought the entire family would enjoy and they did!
Since the weather was perfectly gorgeous, we also spent time just hanging out at the pool and local playgrounds.
Think about the people coming to visit and things they may want to do. Also, consider the weather which is always unpredictable. Have ideas of things to do on rainy days as well as on lovely days. You can avoid having anxiety over entertaining your house guests if you have plenty of options up your sleeve.
Plan the meals
Get in touch with your guests before they arrive and find out what they like to have on hand in the kitchen for breakfast and lunch. This way you won't be caught off guard when they ask you for avocado toast for breakfast.
Also find out about any food allergies.
I wrote my daughter-in-law and asked for a shopping list. One of the things she suggested I stock was avocados because everyone in their family loves avocado toast. Of course, she gave me some other must haves like milk for the toddler.
I did some thinking about meals I could prepare in advance and freeze so that I would not be concerned about the time and wanting to get home to start prep for dinner. My son told me that everyone in the family loves pasta, so I made a tray of cannelloni and froze it. That worked like a charm.
Look through your recipes to see if there is a meal or part of a meal that you can prepare in advance.
Organizing and preparing in anticipation of having people stay at your home helps to avoid anxiety over having house guests. You can be confident that they have a comfy place to sleep, things they may need in the bathroom, and meals to share. The best part is that you will enjoy the visit with your friends and/or family. Afterall, the point of the visit is to spend time with each other.
I am so thankful for all the small moments, conversations that happened in the car, while taking a walk, or relaxing after dinner which I shared with my house guests.
Use my tips to organize and prepare your home and avoid anxiety over having house guests. If you want more guidance, consider joining the Clear Space for You clutter support group I run with Jonda Beattie.
Diane N. Quintana is a Certified Professional Organizer® ,a Certified Professional Organizer in Chronic Disorganization®, Master Trainer and owner of DNQ Solutions, LLC and co-owner of Release●Repurpose●Reorganize, LLC based in Atlanta, Georgia.