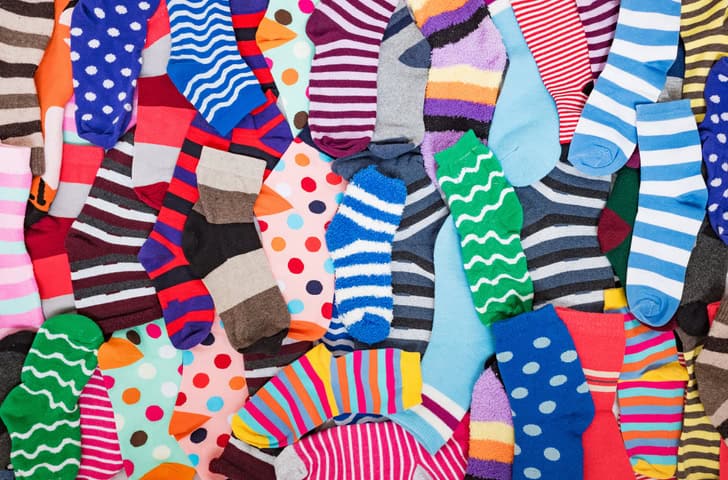 I love socks. There's nothing my feet like better than a pair of comfy socks to cushion my feet unless it's a fabulous foot massage and pedicure. Even though I love my socks they sometimes present problems. They get lost easily and it can be difficult to find the pair you want unless you know how to organize your socks. Looking for the right pair of socks can make you take extra time getting ready in the morning. Time is already tight in the morning, there's no need to waste it looking for just the right pair of socks. It's time to get those socks organized to make your morning run more smoothly.
How to Organize Your Socks
Sort your socks
How many different varieties of socks do you have? I have little socks which I wear with flats, no-show socks, ankle socks, crew socks, and trouser socks. Years ago I also had knee socks. Having these socks all mixed up together in a drawer presents a problem. It can take time to sort through all these different kinds of socks to find the variety of sock I want. Does that happen to you, too? My solution is to have all my socks sorted according to type. This may sound like a big project but, it will probably only take you between 15 and 30 minutes to complete, depending on how many pairs of socks you have and how many different varieties.
The first step to take to organize your socks is to dump all the socks onto the floor and sort them according to type.
If your socks are not in pairs, pair them up. If there are any orphan socks put them aside. I will share some ideas of what to do with them at the end of this post.
Then put them in groups according to the style. Put all crew socks together, all trouser socks, all no-show socks and so forth.
Contain your socks
Make finding the style socks you want to wear super easy, use containers. Decide how many containers to use based on how many of each kind of sock you have.
If you have only one or two pairs of the little socks to wear with flats you may want to combine those with the no-show socks.
You determine what will work well with your personal collection of socks.
Types of containers
The type of container you use will depend on where you plan to keep your socks.
If you are using a big drawer in a chest of drawers, use drawer dividers. Have one section for each style of socks.
If you are keeping your collection of socks on a shelf, you can use baskets, clear plastic shoe boxes, or even empty cardboard shoe boxes.
No matter where you store them, using containers will help to organize your socks.
Label the containers
The last step is labeling the containers. Even if you are using dividers in a big drawer, label the sections. This makes putting away your socks just as easy as finding the pair you want to wear.
Now, put them away. Easy peasy!
3 ideas on what to do with orphan socks
Use them as dusting cloths. Put your hand inside the sock and dust away. This is particularly useful if you are dusting venetian blinds.
Make sock puppets out of them. Children love attaching buttons for eyes, bits of felt, and yarn as decorations.
Donate them to a school or community center to use for art activities.
Now that you know how to organize your socks, take this advice and help your family members get their socks organized, too.
Do you have a deck of the organizing cards, Jonda Beattie and I created? It's called Organize Your Home 10 Minutes at a Time. This deck has 50 cards each one with an idea of how to organize one small space in just 10 minutes. Buy a deck for yourself and then one for your friend as a small gift. These cards will help you organize lots of small spaces around your home just as easily as we organized your socks!
Diane N. Quintana is a Certified Professional Organizer® ,a Certified Professional Organizer in Chronic Disorganization®, Master Trainer and owner of DNQ Solutions, LLC and co-owner of Release●Repurpose●Reorganize, LLC based in Atlanta, Georgia.