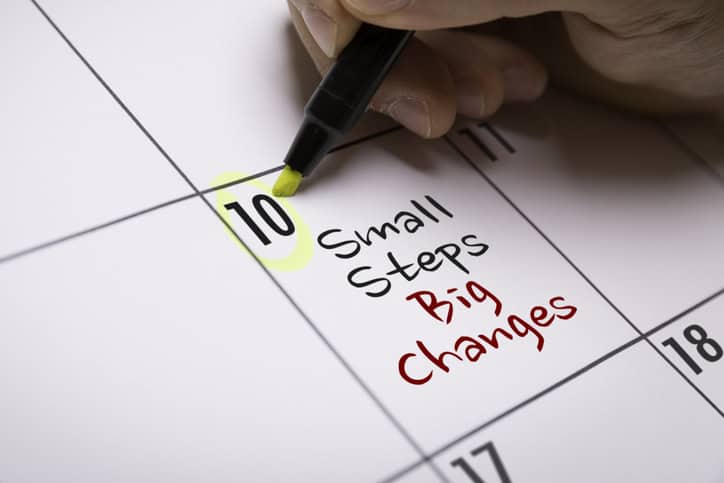 This post was originally published a little more than 10 years ago. I decided to update it because this past week I attended a conference hosted by the Institute for Challenging Disorganization (ICD). It was an amazing conference with fabulous presenters! Each one of those presenters touched (in their own way) on the concept that making incremental small steps leads to big and lasting changes.
KaiZen: small steps toward lasting change
I was first introduced to this concept in April 4, 2011. I took a class offered by the Institute for Challenging Disorganization titled Kaizen – The Next Step for the Chronically Disorganized Client. It was a fascinating class. Kaizen is a word which comes from two Japanese roots, kai which means change and Zen which means good. During this class I learned that when a person is taught how to make small changes toward a stated goal there is a better chance of success.
How does it work?
Do you wonder why that is true? Let's think about this. I am going to use the example of a lifestyle change. Let's say that someone wants to get in better shape. They decide they want to lose some weight and become more physically fit. They have been eating mostly fast food and have never been accustomed to regular exercise. The reason that they decided to make this change is that they want to be in better shape for their high school reunion.
The first method they try is a crash diet. This makes them hungry, cranky and generally out of sorts. They also decide to exercise at a local gym everyday. After one week of trying this method they abandoned the crash diet – good thing since that is not a healthy approach and they stopped exercising after day three because their muscles were so sore.
If I apply the Kaizen philosophy to this situation it would look something like this: they would sign up to work with a nutritionist. The nutritionist would teach them how to plan healthy meals. Every time they met the nutritionist would have a few more changes for them to make. They would feel full, enjoy the meals they are making and weight would come off slowly and steadily. Then, they would also sign up to work out with a trainer a few times a week.
The trainer would teach them some exercises which would make them stronger and tone their muscles. The trainer would also encourage them to incorporate other daily exercise into her routine. Things like walking, biking or swimming. The lesson here is that small incremental changes which are not too tough bring results and are easier to maintain.
Break projects down into small steps
During the ICD conference recently, Juliet Landau-Pope spoke about dyspraxia. We learned that organizing or doing tasks for long periods of time are truly taxing for someone with dyspraxia. That it's better to tackle projects in small steps and for short amounts of time. She recommends working on a project for about 10 to 15 minutes. This means that to complete a project, you need to break it down into small steps. Then do one step at a time until the project is finished.
This concept of Kaizen, making small steps toward a stated goal is a fascinating one to me. So often we look at the big picture and want an instant result. Kaizen teaches you to slow down. To learn and incorporate the lesson of each step into that which you are working towards.
It takes time and energy to change a behavior or a habit. If you rush through a step to get the next step completed chances are you won't have adequately learned the previous step. Read more about this concept of taking small steps in this post.
Alma Galvan gave the final presentation of the conference. It was fascinating to learn that when babies skip through developmental steps, parts of the brain are left under-developed. The good news is that now that we know this, there are ways to go back and develop those parts of the brain. She showed us exercises to use to access parts of the brain and to encourage communication between these parts of the brain.
In conclusion
It may feel like taking small steps is wasting time but really these small steps are vitally important. We learn better when we process information in small bites. We accomplish more when we do things a little bit at a time because we are focusing our attention on that small task. Then the small tasks add up and, viola! A large task is completed.
updated; October 17, 2021
Diane N. Quintana is a Certified Professional Organizer. She is the owner of DNQ Solutions, LLC and Co-owner of Release Repurpose Reorganize, LLC. Diane and Jonda are the creators of the unique time-based deck of cards: Organize Your Home 10 Minutes at a Time.