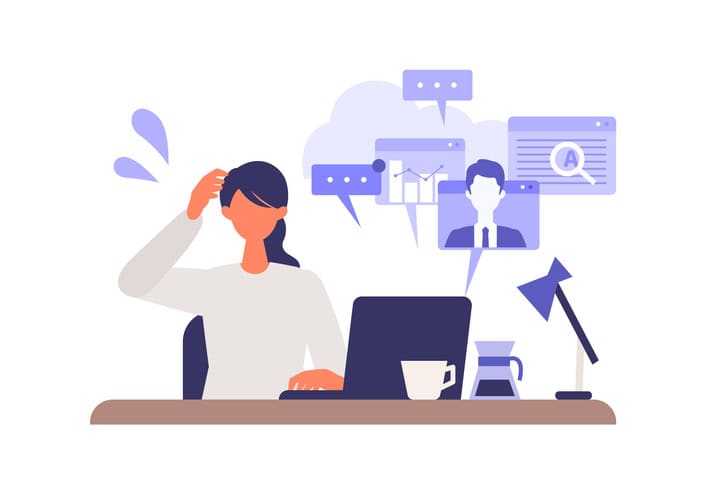 Everyone wants to be more productive. We want to get more done in less time, so we multi-task. But do we really get more done when we're multi-tasking? When we're busy doing so many things, do we truly accomplish more?
We like to think that we can do multiple things at once. Multi-tasking has become a buzz phrase of sorts but are you really more productive when you multi-task? Research says that you are not.
This article from the Cleveland Clinic in March 2021 reports that multi-tasking can reduce our ability to focus intently on one task and our ability to learn. That's a scary thought. This article says that we're not truly multi-tasking, we are task-switching. Switching our attention from one task to another and back again.
This is not productive because it takes time for the brain to move back and forth between tasks.
Here's a possible scenario:
You are driving the car, listening to the radio, following GPS directions, and talking to a friend what is your brain paying the most attention to?
If your friend tells you something scandalous, what are you paying attention to? The cars around you, the signs on the road, other things like debris, a pedestrian, or a bicyclist? My guess is that you tune more closely into what your friend is talking about because it is more interesting than the things around you.
When you're paying attention to your friend, you are not paying attention to the road and that's when mistakes happen. It can be a small thing like missing your exit, or a big mistake like not checking your side mirror when you change lanes and narrowly missing another car.
Here's another possible scenario:
Once again you are on the phone listening to your boss talk. He always talks a lot so instead of giving him your full attention you decide to be more productive while he is talking. You have a lot of emails in your inbox which need attention. So, you decide to delete some emails and respond to others while he is yammering on.
He talks on and on requiring you to just say things like 'uh huh or oh' periodically. Finally, he says something like 'I'm sure you'll do a great job on this report'. Now, panic sets in because you have no idea what the report is supposed to be about. You were not really listening. Your attention was primarily focused on the emails you were deleting and responding to. What are you going to do now?
You can see from these simple scenarios how easy it is to process the wrong information when your brain is not attending to the task at hand. Multi-tasking does not enable you to be more productive.
So, what's a person to do to be more productive with the time available?
Recently, I took a class presented by Carolyn Caldwell on Time Management and Productivity through the Institute for Challenging Disorganization. Carolyn proposed that to be more productive in the time available we engage in task-layering.
How is task layering different from multi-tasking?
Task-layering is different from multi-tasking because you intentionally group tasks that require little or no focus with 1 task that requires your attention. Doing this means that you are giving your brain permission to pay attention and truly focus on only 1 thing for a set amount of time.
Some examples:
For instance, you can study for a test while the laundry is in the washer. Another example is answering email, listening to familiar music, and baking a cake.
If you are baking a cake, you set the timer for the 30-minutes that the cake is baking and then can focus for that length of time on answering email. You can even have music on in the background. When the timer goes off, you take the cake out of the oven, and go do something else.
Understand that when you engage in task-layering you are not trying to do more than 1 thing at a time. You may have something else happening, but you are giving your full attention to just 1 task.
Let's review
When you say you are multi-tasking you are not doing multiple things at once, you are switching between multiple tasks which can cause you to make mistakes. Another problem with task-switching is that when you do this repeatedly your brain can lose the ability to focus intently.
Task-layering involves selecting 1 task on which to focus intently while letting other things happen in the background that do not require your attention.
If you want to be more productive, try task-layering. Decide what can happen in the background while you focus your attention on 1 task. You will be surprised by how much more productive you can be when you give your complete attention to one important task at a time.
Diane N. Quintana is a Certified Professional Organizer® ,a Certified Professional Organizer in Chronic Disorganization®, Master Trainer and owner of DNQ Solutions, LLC and co-owner of Release●Repurpose●Reorganize, LLC based in Atlanta, Georgia. Contact Diane for a complimentary phone consultation.