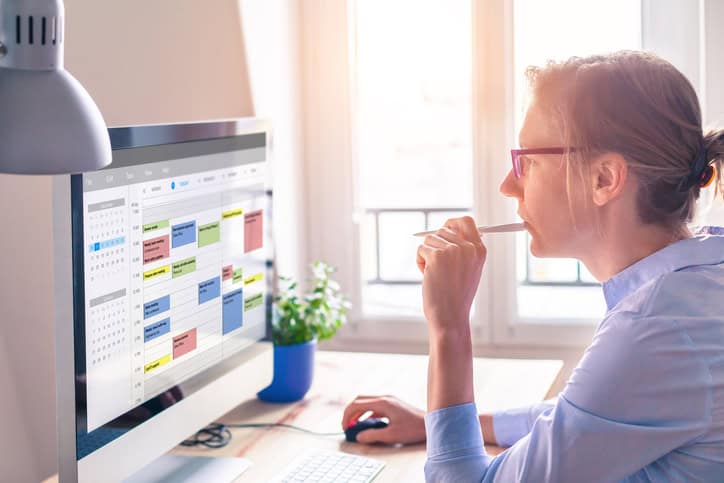 The most common reason to be productive is to make money so we can fund our way of life. But are there other reasons for being productive? Or rather, are there other reasons for being continually doing something? My friend and colleague, Julie Bestry, has been writing recently about Toxic Productivity. These blog posts have fascinated me. Julie always, in every article or blog post, provides lots of interesting background information and research. Are you wondering why I am writing about this? Well, I started thinking about my own reason to be productive.
I asked myself some questions. Am I a workaholic? Do I work too much? Does my quest to be productive come before anything else and to the point where I exclude things that are not productive? Am I being productive or am I just staying busy so that I have things to do? How does being organized help with productivity?
As I work through the answers to these questions. I encourage you, as you read along, to think about your answers.
Being busy versus being productive
There is a distinct difference between being busy and being productive. I can be busy all day long and accomplish little or nothing on my to-do list. When I am busy, I float from one task to the next and am usually avoiding a certain task. Having said that, being mindlessly busy allows my brain to mull over the problem I have encountered with the task I am avoiding. Typically, I resolve the problem and can then get started on the thing I didn't want to do.
I bet you can come up with all sorts of little things to do around your home to make it look like you are doing something when you are just avoiding something else.
Don't get me wrong. Doing those little tasks is being productive. Although, you may be doing anything but that which is on your list of things to do.
There are some days when I don't feel like doing anything productive. I find it best on those days to admit that it's not a good workday and to put my energy into self-care.
You can argue that taking time for self-care is another way to be productive because when you indulge in self-care you are better able to care for others.
Boundaries
As I pondered the first question, am I a workaholic, I realized that I spend an awful lot of time working. But I don't think I am a workaholic. Something Julie wrote in response to another friend and colleague, Linda Samuels, was that weekends are not for work.
What a novel thought!
My weekends are often filled with work. Why? Well, frankly, many of my clients work during the week. So, if I am going to work for people who work Monday through Friday I must do so when they are not working.
Having said that, I agree that there must be days when I don't work.
That brings me back to boundaries.
I thought about how I can give myself non-working time. When you work for yourself, and you work from your home it's easy to find work things to do unless you create boundaries and honor them.
I made a promise to myself that I will only schedule clients on one Sunday and two Saturdays a month. The other weekend days will be days to rest, relax, and have fun.
Then I promised myself two half-days at my desk. One day is for the business of running my business and the other is for the more creative work I do.
The last boundary I created involves my work hours. I am a morning person. My best work is done early in the morning. So, I decided to end my office hours in the late afternoon/early evening.
I admit,  I sometimes stretch these boundaries when the reason is compelling enough.
Household Chores
Maintaining a clean and tidy home is another reason to be productive for me. I love seeing the clean surfaces and having my home smell fresh – and not like my adorable dog, Josie!
I have a regular schedule for doing household chores so that I do not spend a lot of time cleaning. And because I only do a little bit at a time it never becomes overwhelming.
Organizing and productivity
The final question was: does being organized help with productivity? The answer is a resounding YES!
Being organized helps you be productive in every way.
When your physical space is organized you can more easily organize your thoughts and your workflow.
My best reason to be productive
As I pondered these questions the thought came to me that I truly love being productive. Simply put, it makes me happy.
Just like seeing those clean and clear surfaces in my home makes me happy, it makes me happy to think through the day that has been and acknowledge the many ways in which I was productive.
This is one of the reasons the clutter support group I run with Jonda Beattie is so popular. At the beginning of each session Jonda asks each participant to enumerate their wins. Voicing the ways in which they have made progress towards their stated goal makes each person proud of their accomplishment.
I have concluded I am not just staying busy to have things to do, I am purposefully productive. Additionally, I am not a workaholic because I take time for self-care and to do things other than work.
Do you have questions like these floating around in your head? Are you looking for ways to be more productive with your time, so you also have time for fun? Consider joining the Clear Space for You clutter support group I run with Jonda Beattie.
Diane N. Quintana is a Certified Professional Organizer® ,a Certified Professional Organizer in Chronic Disorganization®, Master Trainer and owner of DNQ Solutions, LLC and co-owner of Release●Repurpose●Reorganize, LLC based in Atlanta, Georgia.